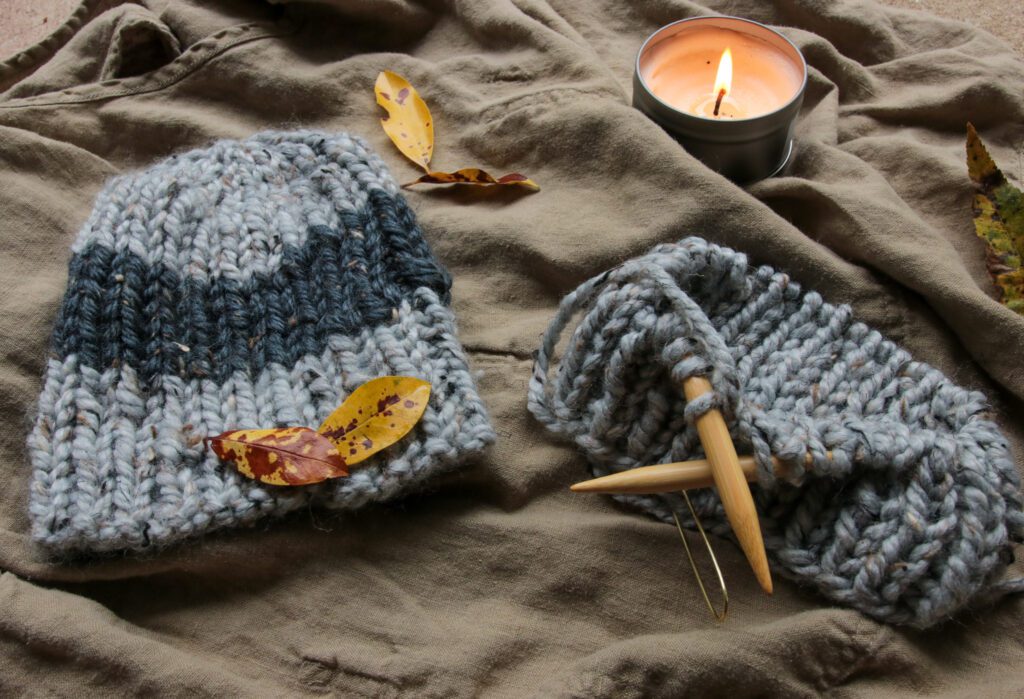 For years I have been looking for a knitting pattern to create a simple and masculine hat. As much as I have searched, there are just not as many knitting patterns for a classic men's beanie. Once I discovered the fisherman's hat ribbing, I knew I needed to experiment and create something different. This Fisherman's beanie knitting pattern is perfect for beginners who want to create a quick and easy hat.
These hats make the best gifts for guys (they can also be more feminine depending on what colors you use, but I think the simple fisherman's ribbing is perfect for a no-frill men's hat). My father, who loves anything handmade, wears his while hunting and fishing in the elements. I also knitted one for my boyfriend (who kindly modeled for the photos below). He can be found sporting this fisherman's beanie beside fall campfires and on chilly winter walks. If you enjoy this pattern, you can also follow my pattern to knit a matching fisherman's cowl.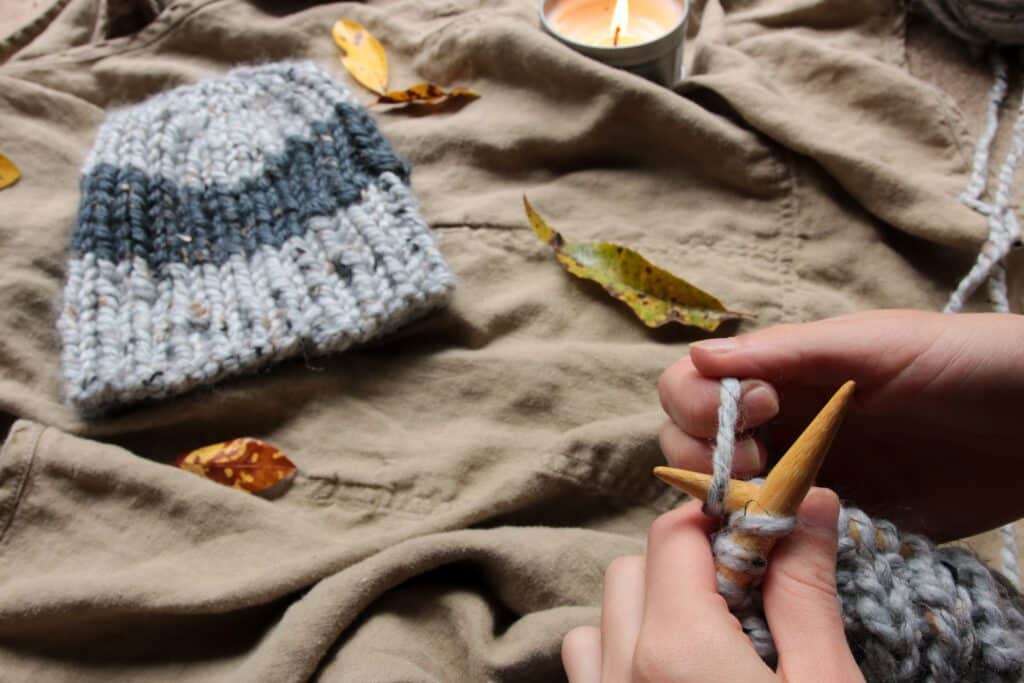 Color Blocking:
You do not have to incorporate multiple colors, but I found it to be a simple way to make the hat very unique and cool. I did this by deciding what colors looked nice together and choosing how wide I wanted the layers to be. I usually wait until my first color (the one I cast on with) is knitted to create a few inches of hat before switching to a new color. For the hats pictured, I used one color as the main color and another color as an accent to create the stripe. This is a great way to use up random leftover yarn for the accent stripe.
Hat sizing:
I have a fairly small head and 48 cast on stitches is great for me, but for someone with a larger head, you might want to try 54 or 56. Remember that yarn does stretch out over time so you might want to make something slightly smaller than you think you need to.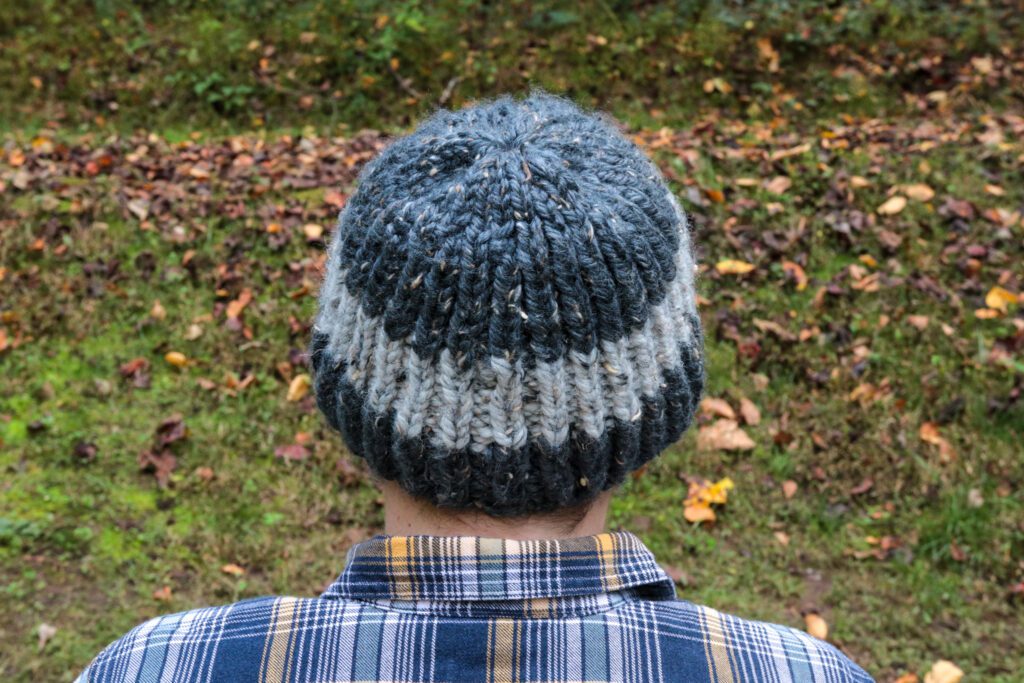 Glossary of Abbreviations:
ST(s) = stitch(es)
CO = cast on
K = Knit
P = Purl
SL1, K2TOG, PSSO, = slip 1 stitch purl-wise, knit 2 together, then pass the slipped stitch over as if casting off. (Decrease)
---
Supplies:
Around 90 yards of super bulky (weight 6) yarn:
I love using the Lion's Brand Hometown yarn. It comes in so many beautiful colors and has the best texture!
Needles: US 15/ 10mm 16″ circular knitting needle
*optional* A stitch marker
---
Fisherman's Beanie Knitting Pattern
CO 48 sts in the round and join. Place a stitch marker to identify the beginning of the round.
Round 1: K1 P1 repeat until you reach the end of the round
Round 2: K1 P1, being sure that each stitch aligns with the same kind of stitch beneath it from round 1. For example, if you are doing a knit stitch, it will align with the knit stitch below it from the previous round. repeat until you reach the end of the round
Repeat this pattern until your hat is the correct size and ready to decrease
---
Decrease rounds:
Round 1: *(Sl1, K2Tog, PSSO), P1, K1b, P1, K1b, P1; Rep from * to end of round.
Round 2: *K1, P1; Repeat from * to end of round.
Round 3: *(Sl1, K2Tog, PSSO), P1, K1b, P1; Rep from * to end of round.
Round 4: *K1, P1; Repeat from * to end of round.
Round 5: *(Sl1, K2Tog, PSSO), P1; Rep from * to end of round.
Round 6: *K1, P1; Repeat from * to end of round.
---
Finishing:
Cut yarn, leaving a long tail. Thread tail through remaining stitches and pull tightly through the inside of the hat. Reverse the hat, you will see that the tail is now extending from the top of the inside of the hat. Pull tight and tie off. Weave through stitches until secure and tied off several times. Cut remaining tail.
---
This cap is so simple and beautiful, you can easily complete it in a few hours if you knit straight though. Please let me know in the comments if you try this pattern and if you have any questions.
---
I don't want anyone to get the wrong idea here, I am not an expert at crochet. I actually just started learning a few months ago. My progress has been relatively slow (as I have so many knitting projects going) but I've been slowly plugging away at it. When I first started learning crochet, the…
A quick and simple knitting pattern for a masculine fisherman's cowl. This project comes together in less than 2 hours and is great for beginners.