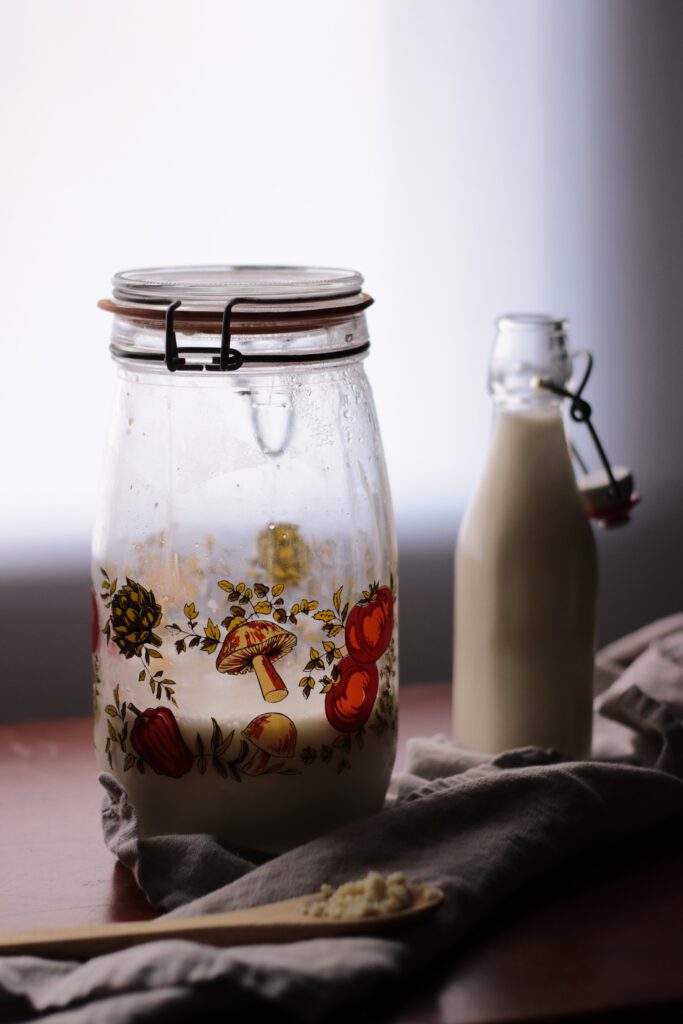 If you've been following my journey recently you might know that I am obsessed with all things raw milk! I've been loving picking it up from a local dairy and experimenting with creative ways to incorporate it into my diet. I have always known about kefir, but it wasn't until after listening to an excellent podcast featuring Donna Schwenk, founder of Cultured Food Life, that I realized I need to be making my own raw milk kefir and drinking it as much as possible. Making this fermented beverage is so simple, it is the perfect way to use up excess milk and get some natural probiotics in! There are so many incredible benefits of drinking milk kefir, that I want to mention before sharing this recipe! I would also highly recommend reading Donna's blog about Kefir where she covers much more of the science behind why kefir is good for you.
Raw Milk Kefir is known to:
Lower acid reflux
Lower blood pressure and blood sugar
Helps improve seasonal allergies
Boosts immune system
Helps improve your gut microbiome
Because of all the bacteria and yeasts in milk kefir, it is very balancing to all systems of the body!
What is Milk Kefir?
Kefir is a tangy, fermented milk drink that is more sour and less thick than yogurt. Kefir is made when kefir grains are combined with milk. "Huge colonies of good bacteria in kefir dominate the milk, thereby suppressing any harmful bacteria and preserving the milk. These bacteria eat the milk sugars out of the milk and perform their magic to infuse the milk with healthy qualities. This is why the milk becomes sour. The kefir microbes consume sugars as food to create the perfect environment for good bacteria to thrive. As you consume kefir, it, in turn, creates an environment inside you that does the same thing and so much more." -Donna Schwenk
Does kefir have to be made from raw milk?
Simply put, no. While raw milk will have more health benefits than pasteurized, homogenized milk, it is not necessary to use it for kefir! To learn more about raw milk, I wrote a blog sharing more information about what it is and why it is so good for us!
Can I use pasteurized milk?
Yes, as long as the milk is not "ultra pasteurized"
Can I use non-dairy milk?
Yes! You can absolutely use coconut milk instead of dairy milk. You will make the recipe the same way but the grains might need a few batches to adjust to the coconut milk.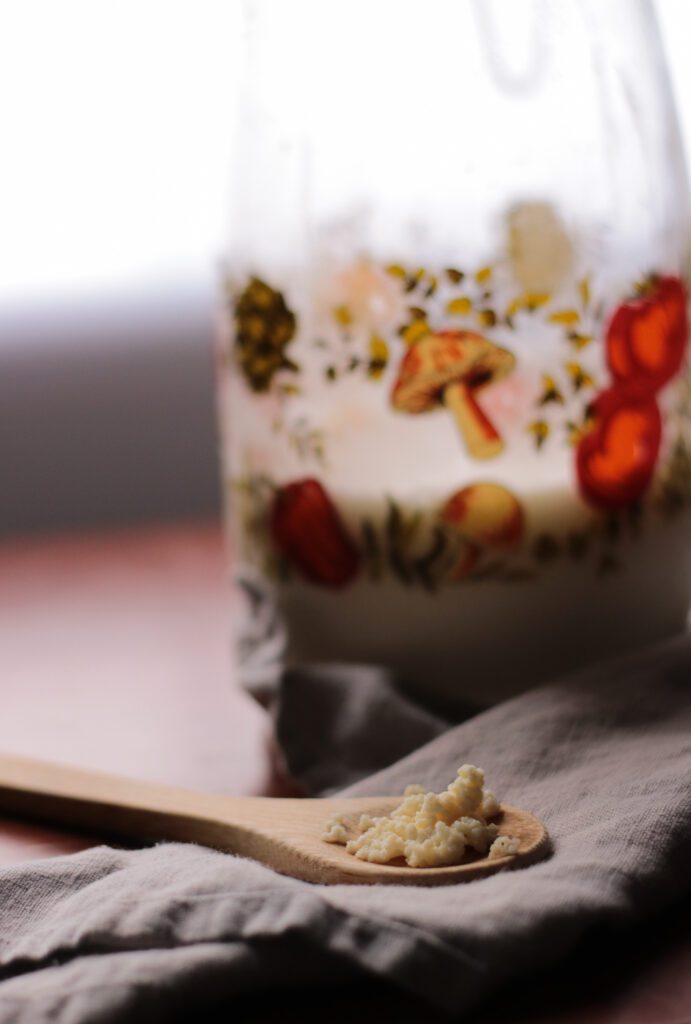 Where can I buy Kefir Grains?
You can buy kefir grains all over the internet and in health food stores across the US. I would suggest first starting with asking friends or family if they have any extra grains. If you cannot find any grains in your social circle, you can buy them from Donna Schwenk on her incredible fermented foods website!
Will my kefir grains multiply?
Yes! More kefir grains are a byproduct of the fermentation process! This can be great if you want to share your grains with friends or family. You can even dehydrate them and ship them to share!
What is the difference between homemade kefir and store bought kefir?
There are three main differences between homemade and store-bought so let's break them down:
Cost:
it is significantly cheaper to make your own kefir because you are only paying for the milk and the one time cost of buying the kefir grains
Health:
Store-bought kefirs contain many additives in addition to milk and grains. This makes store-bought kefir less healthy because it is not kefir in its purest form. Additionally, store-bought kefir often contains significantly less culturing from kefir grains than a homemade batch.
Taste:
When you make your own kefir, you control the flavor! For example, you can ferment kefir longer for a more tangy and creamy result. You can also flavor it by blending with frozen fruit! Store-bought flavored kefirs have many additives and (un) "natural flavors" mixed in.
How long does kefir last in the fridge?
Kefir can last for 2-3 weeks in the fridge before going bad. This is because the bacteria and yeast preserve the kefir while the cold prevents any spoiling.
What can I make with Milk Kefir?
Of course, you can drink kefir raw or throw it in a smoothie to flavor it, but there are many other ways you can enjoy it too! Kefir is a great substitute for buttermilk which means you can use it to make biscuits, pancakes, scones, and so much more! I would encourage you to get creative and incorporate kefir into your diet as much as possible.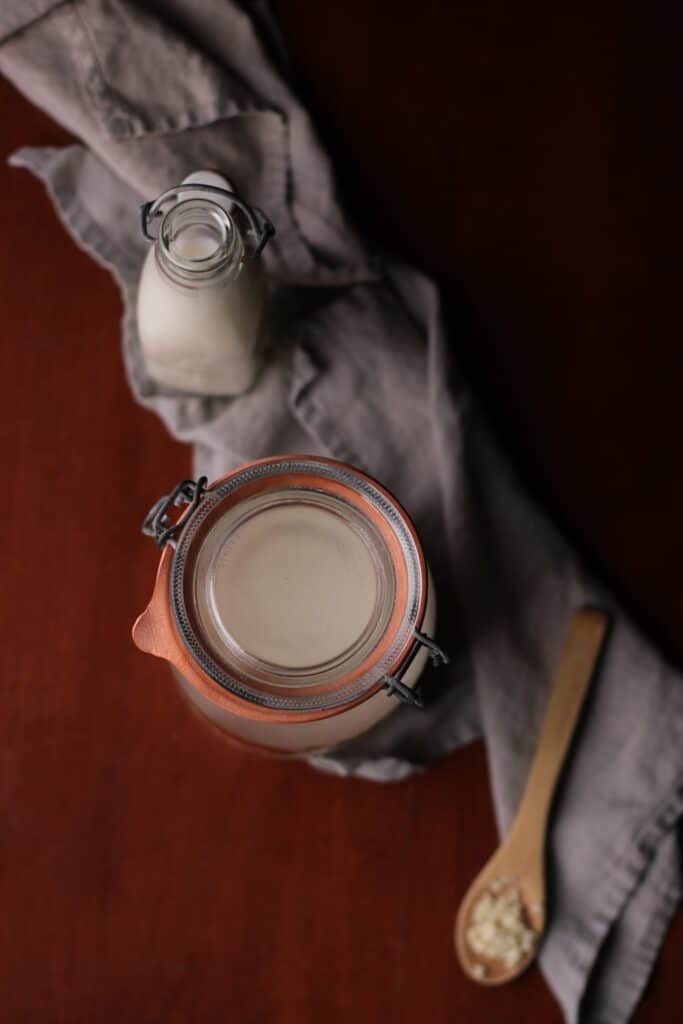 Supplies you will need to make Milk Kefir:
Kefir Grains
Fine mesh sieve
two large wide-mouth mason jars
Fresh whole milk (raw or pasteurized)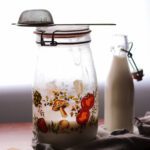 Print Recipe
How to Make Raw Milk Kefir
Ingredients
Kefir Grains

Fresh whole milk

raw or pasteurized
Instructions
Fill a quart or half gallon-sized jar with fresh whole milk

Add kefir grains

Stir to incorporate

Allow it to sit at room temperature for 24-48 hours I like to only do 24 because I don't want it to be too sour

After it has fermented the desired amount, strain the kefir into a new jar using a fine-mesh sieve to catch the kefir grains.

At this point you can either start a new batch of kefir or you can put them in the fridge for a few days until you are ready to start more kefir.