Raw milk is just milk in its original form. When I was a little kid I thought that milk from the store was straight from the cow, as homogenized and pasteurized were not yet part of my vocabulary. It wasn't until I visited a small dairy with my family that I realized why there is a distinction between milk from the store and organic raw milk. This dairy milk tasted creamier and earthier than its processed counterpart. I remember my mom occasionally meeting up with fellow health nuts in parking lots to pick up raw milk stored in coolers in the back of a silver Honda Odyssey. These health nuts formed a raw milk co-op, where they secured the milk from South Carolina and drove across the border to metro Atlanta church parking lots like some kind of dairy drug deal. All this seemed fairly normal to me at the time, but looking back I've realized most people do not know where their milk comes from and why the dairy industry has evolved to what it is.
First, a few Terms:
Pasteurization: A heat treatment process that destroys any pathogenic microorganisms in certain foods and beverages. Milk is briefly heated to high temperatures which kills all the bacteria.
Homogenization: is when milk is spun in order to make the two insoluble elements of milk one element. In other words, this method keeps the cream from separating because the elements of the milk have been emulsified.
What is Organic Raw Milk?
Raw milk comes straight from the cow. It has not been pasteurized, homogenized, or processed in any other way. Raw milk is grass-fed and free of any hormones. Raw milk is incredibly delicious and good for you, but we will get to that in a minute.
The Evolution of the Dairy Industry
Milk has always been raw but that doesn't mean it has always been safe. After the US industrialized, in the 1920s and '30s, milk needed to travel further distances from farms to grocery stores. Without modern sanitary practices and refrigeration technology, the time in transit would allow milk to warm up and grow harmful bacteria which could cause outbreaks of tuberculosis and other diseases. Of course, this was very concerning for doctors and food scientists who noticed that high infant mortality rates seemed to correlate with the consumption of raw milk. As a result, by the 1950s it was standard practice to pasteurize and homogenize milk before selling.
Is Raw Milk Dangerous Now?
Drinking raw milk is not nearly as risky as it once was. Because we have the refrigeration and testing technology, raw milk is safe to drink. Yes, it is slightly riskier than drinking processed milk, because it contains all the original bacteria and probiotics of natural organic milk. I do want to note here that the research has shown that you are far more likely to become sick from eating chicken cooked in your own kitchen than drinking raw milk.
The Benefits of Drinking Raw Milk
There are so many reasons to drink raw milk, here are just a few of them:
Local is better
Because it expires faster than industrial milk (because it is not processed), raw milk does not travel very far distances to arrive in your refrigerator. Usually, consumers will need to visit a local dairy farm or farmers' market to purchase raw milk. You can learn more about how locality affects the quality and taste of your food here.
Grass-fed
Raw milk comes from cows that live out their best lives on the farm because they are able to roam the forests and fields of the farm eating and drinking as they like.
Hormone-free
Organic raw milk cows are not given hormones because they are not getting sick in industrial factories. Their lives are very natural and simple on small local farms.
Raw Milk Tastes Better
Some disagree, but I think raw milk tastes so much more creamy and rich than processed milk. Don't belive me? Arrange a blind taste test and find out for yourself!
Full of enzymes, vitamins, and healthy bacteria
Because raw milk is not pasteurized or homogenized, all of the healthy enzymes, vitamins, and healthy bacteria are still present! The consumption of raw milk is linked to relieving eczema and asthma symptoms and holds many immune-boosting health benefits
Supports local family farms
When you purchase raw milk from a local dairy, you are supporting small family farms and food security instead of large industrial agriculture. This is very important because having a relationship with the people who grow and produce your food gives you insight into their practices and cuts out the middleman (grocery stores, transportation, large milk companies, etc). As a result, we are keeping the supply chain of our food small and local, reducing greenhouse gas emissions, and putting our money and trust back into the community!
Raw milk cows are not bred to mass produce milk
Most industrial cows are bred (via artificial insemination). This can be a pretty complicated process, but in summation:
Many cows are artificially bred in order to create "super cows" which produce more milk faster. Farmers typically buy semen and breed cows from the same families resulting in a loss of genetic variation among dairy cows. When cows are bred this way, they tend to be infertile and unhealthy. These kinds of cows are then pumped with hormones to "fix" problems created by the breeding and thus the vicious cycle continues.
In contrast, raw milk cows are not bred this way and therefore do not suffer from these problems. 
So raw milk is awesome, now what?
Here are a few next steps if you want to learn more about raw milk:
Do some research:
Don't just listen to me! Here are a few resources to get you started:
*I'll embed these and make them pretty when formatting later*
Is raw milk illegal in your state? In the US, there are many different rules about raw milk which vary from state to state. This map is a helpful tool to find out more:
If you would like to legally buy raw milk in your state, please consider calling your local representatives to encourage their action!
If raw milk is safe, why is it still illegal in some states?
There are many reasons the FDA has restricted raw milk and they can easily be found across the internet. My personal opinion is that the restriction of organic raw milk in some states is a one size fits all solution to an old problem. Of course, there were risks when drinking raw milk 100 years ago and those risks still exist now. But with the technology we have today, we don't need to be scared of raw milk. Something we talk about frequently on this blog is that the industry of big agriculture does not care about us. Our health and happiness is not as important to them as the bottom line. All they care about is how to produce as much milk as quickly and cheaply as possible! These dairies are also subsidized and sometimes owned by the government, so why would it benefit them to make raw milk accessible to the masses? Just something to think about…
The following infographic further exemplifies these points: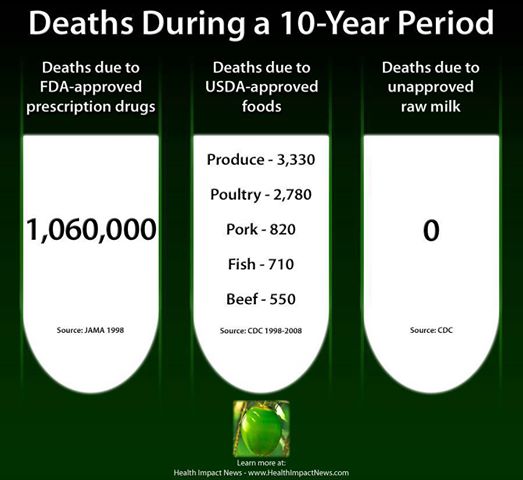 There is an excellent Washington Post article discussing the tension of this topic and more. The author discusses the state of milk around 1900:
"They (raw milk advocates) believe the health problem was caused by lack of regulation and refrigeration, not raw milk. On farms, people drank fresh raw milk. In cities, where the majority of deaths occurred, the dairies were filthy, and there were lax standards for transportation and storage. In addition, suppliers were often unscrupulous, as Cattle, a history of the cow by Laurie Winn Carlson, attests: "Milk was commonly mixed with additives to gain profit. Then, to make it look whole, additives were mixed in, such as carbonized carrots, grilled onions, caramel, marigold petals, chalk, plaster, white clay and starch. To replace the cream that had been removed, emulsions of almonds and animal brains were dissolved in the liquid to thicken it."
Where can I buy raw milk?
This will certainly take some research! If you live in a state where organic raw milk is sold in retail stores, it should be fairly easy to locate. If you live in most other states, you can try using the raw milk finder. You can also find out about raw milk by word of mouth: ask around at your farmers' market or local CSA, drive to a few nearby dairies, or talk to any friends and family involved in the health food community! Be sure to visit a dairy before purchasing milk to learn about their practices and operation. I have found that small family farms are happy to show how their cows live and are milked because they are open and transparent about their practices. On the other hand, large industrial farms usually don't like tours. We can only assume this is because their practices are less than ideal or they have something to hide…