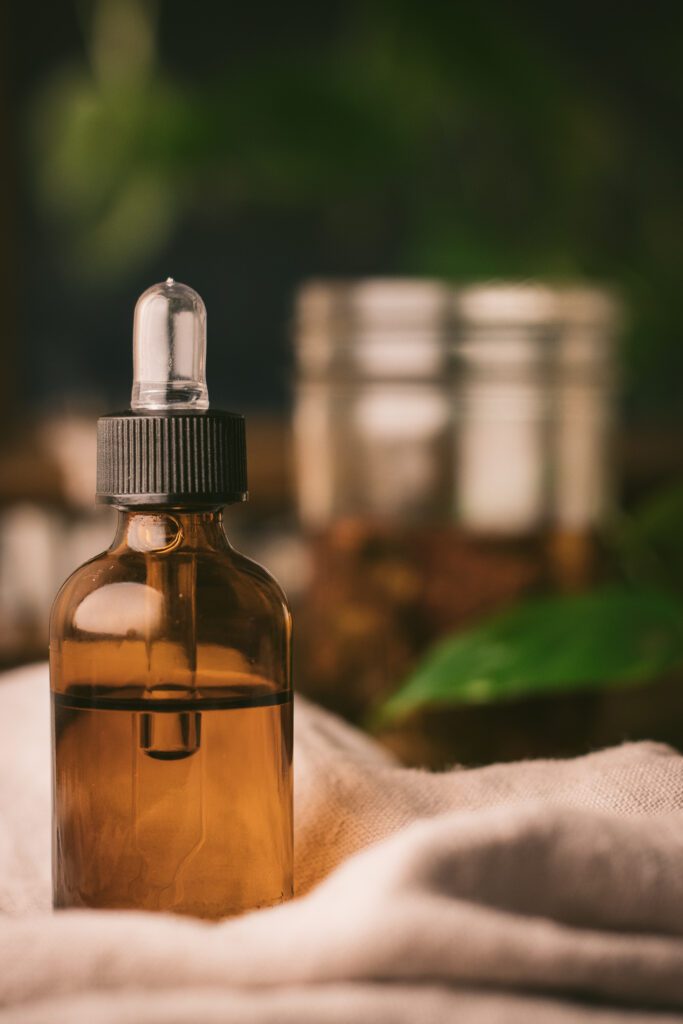 Homemade Beard Oil is one of those DIYs that just makes sense when you do the math. A cost breakdown comparing store-bought vs handmade beard oil will reveal that doing it yourself is considerably cheaper! If you've read my blog for any amount of time, you might notice that I love experimenting with handmade skin and body care. I have been mixing up lotion bars, balms, butters, and salves for years and always love the results. These days, there's hardly a product I see that I don't ask "How could I make this?". Beard oil is no exception. I always love the idea of purchasing beard oil for my brothers, dad, and boyfriend but it can be very expensive and not necessarily very nourishing or clean. Enter the homemade beard oil.
Now that I am studying how to use herbs in my daily products and routines, I wanted to make a more enhanced and nourishing beard oil than what can be purchased at your average specialty store. This homemade beard oil is made from an herbally infused oil and is scented with essential oils. Instead of clogging pores it gently nourishes beard and skin while smelling delicious! First, you will need to make an infused herbal oil, then add your favorite scents, and finally package it beautifully to give as a gift or use!
What Oils should I use for Homemade Beard Oil?
Jojoba Oil is my favorite oil to use on the face because it is technically a wax from a desert shrub that mimics the natural oils of the skin. Because it has high molecular stability, Jojoba oil does not go rancid very quickly making it shelf-stable at room temperature. This oil is also relatively inexpensive which makes it a great option to buy in bulk.
Marula Oil is another amazing facial oil. It is high in antioxidants and very light on the skin so it's good for anyone with more oily skin.
Sweet Almond Oil is high in vitamin E and is known to fight free radicals in the skin and help heal acne. This is a great option for more "problem skin" that needs a little extra care.
Which herbs should I infuse into my oil?
The purpose of infusing herbs into the oil is to give your oil more healing properties than it would have on its own. Some of my favorite herbs to use are below. Each of these herbs will treat and interact with the skin a little differently, but ultimately it comes down to what you have on hand or can easily forage.
Red clover
Lavender
Calendula
Chamomile
Elderflower
How long will this process take?
Allow your herbs to infuse in the oil for about a month before assembling the beard oil. If you are making this oil as a Christmas gift, November is a great time to start the process. If you don't have enough time for this step, you can skip or shorten the infusion, but it will diminish the nourishing properties of the final product.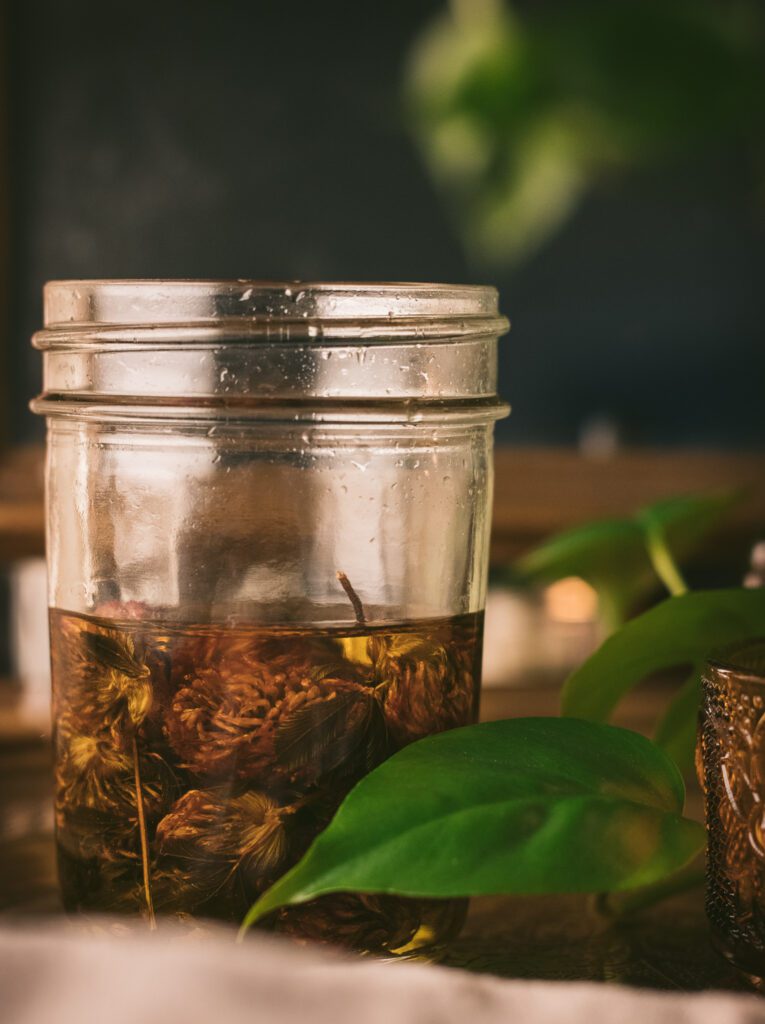 How to scent beard oil
Ultimately, we want to craft a beard oil with a masculine aroma that isn't too pungent. Below are a few of my favorite scents: You can mix and match to blend a special fragrance or you can just choose one scent to be the focus. I like to buy my essential oils from this website.
Cedarwood
Orange
Bergamot
Pine
Clary Sage
Rosemary
Rosemary
Lemon
Ginger
Clove
Frankincense
Storage
Homemade Beard Oil with keep for around a year in a cool dark place
Usage
Every morning and evening after washing or rinsing your face, apply a few drops of beard oil to your hands and distribute it evenly throughout your beard all the way to the skin. It's best to follow up with a comb if styling. How much oil you use will depend on the size and thickness of each beard, so be sure to experiment with it. Remember less is always more!
Supplies You Will Need
---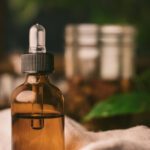 Homemade Beard Oil
Print Recipe
Ingredients
Carrier Oil

Use enough to cover your herbs in a glass jar

Essential Oils

Use whatever you scents you like

herbs of choice

I used Red Clover-see above for more imfomation/options
Instructions
Add the carrier oil to a wide-mouth glass jar. I like to use Jojoba oil.

Add washed and dried herbs to the oil. Here I used Red Clover. Be sure to cover the herbs fully with the carrier oil.

Allow the oil to sit in a sunny spot for about a month

After a month, reserve the oil by separating it from the herbs using a fine mesh sieve.

Return the oil back to wide mouth jar and add your essential oils of choice (see options above)

Using a funnel, pour the beard oil into a dropper bottle

Here you can make a nice label for your dropper bottle and package it beautifully as a gift or for yourself!
This post may contain affiliate links, which means I make a small commission at no extra cost to you. You can view my Privacy Policy Here.