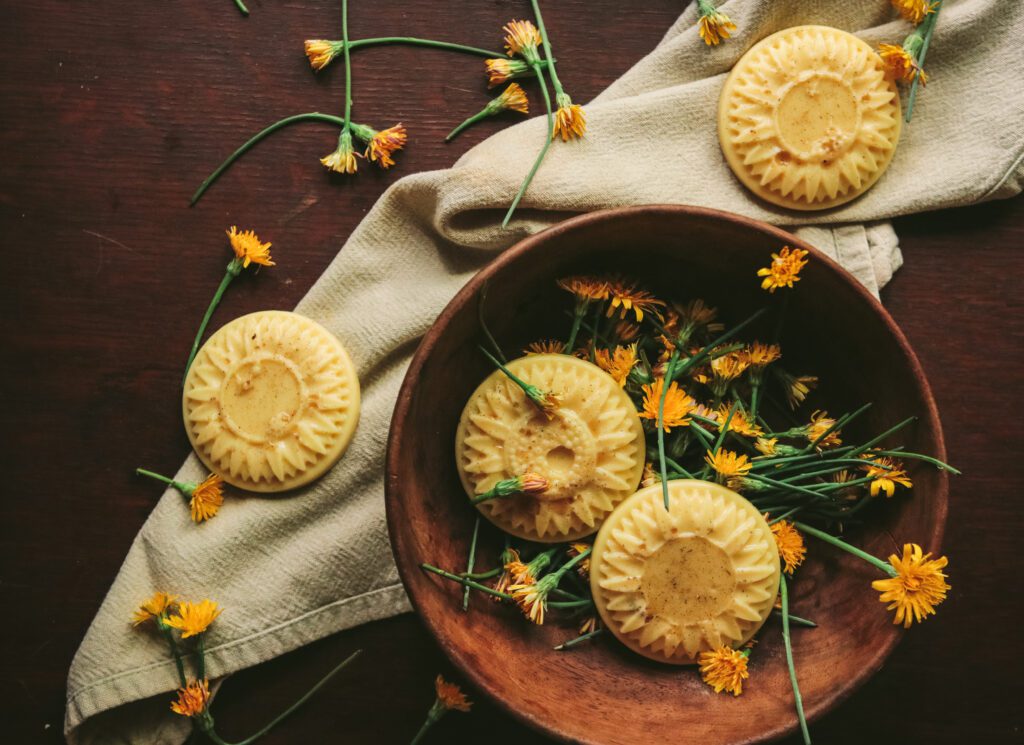 Dandelion season is in full swing and I want to shout from my rooftop: "Dandelions are not weeds!". I have been searching for these flowers for weeks to make my dandelion and beeswax lotion bars, but they have always been removed or destroyed. Throughout this spring, I have watched my neighbors mow their lawns, cutting beautiful dandelion blooms with them and it's breaking my heart. Why? Because dandelions are one of the most common medicinal herbs. They thrive under almost any condition and you can use every part of the plant. These common flowers are probably growing near you right now, waiting to be used in your home. In the spring, the leaves and blooms of the dandelion can be used but the roots of the plant are best harvested in the autumn. There are many ways to use the humble dandelion, but today we are going to be talking about herbal topical remedies.
What are the benefits of dandelion flowers?
Dandelion flowers are full of antioxidants, vitamins, and minerals, and have detoxifying properties. This makes them an excellent addition to homemade lotion bars.
What are the benefits of using lotion bars?
Once I discovered lotion bars, I couldn't go back to the regular store-bought lotion. This year I am in the process of switching entirely to handmade lotions for my body. Lotion bars are so easy and convenient, here are a few of the reasons I love them:
Take up less space

Lotion bars take up much less space than lotion in a tube making them great if you are low on storage space. I love to pack mine when traveling because I don't usually have lots of space for a bottle of lotion, which brings me to my next point:

TSA friendly

Lotion bars are not liquid which means they can travel on planes without a size limit. I have taken mine on several flights successfully!

Better for the environment

Buying ingredients in bulk and making your own package-less lotion will always be better for the environment than buying lotions in plastic from the store.

Better for your skin

When I make my own lotion bars I don't need to read labels or reviews to see if there are harmful ingredients. My skin is very dry and sensitive so I created these lotion bars to be simple and soothing.

Very cost-effective

Buying organic, ethically sourced, clean skincare products can add up very quickly in the bank account. Buying a few bulk ingredients and making your own lotion bars is so much less expensive and a far better value.

Serves as a multipurpose balm

Dandelion and beeswax lotion bars can be used for many topical ailments. Here are a few ways I use mine:

to repair the skin after a sunburn
to treat minor cuts and scrapes
to hydrate dry cuticles
as a lip balm
as an overnight moisture mask for the face
an aftershave balm
as a paw balm for active pets
and of course as a lotion for my body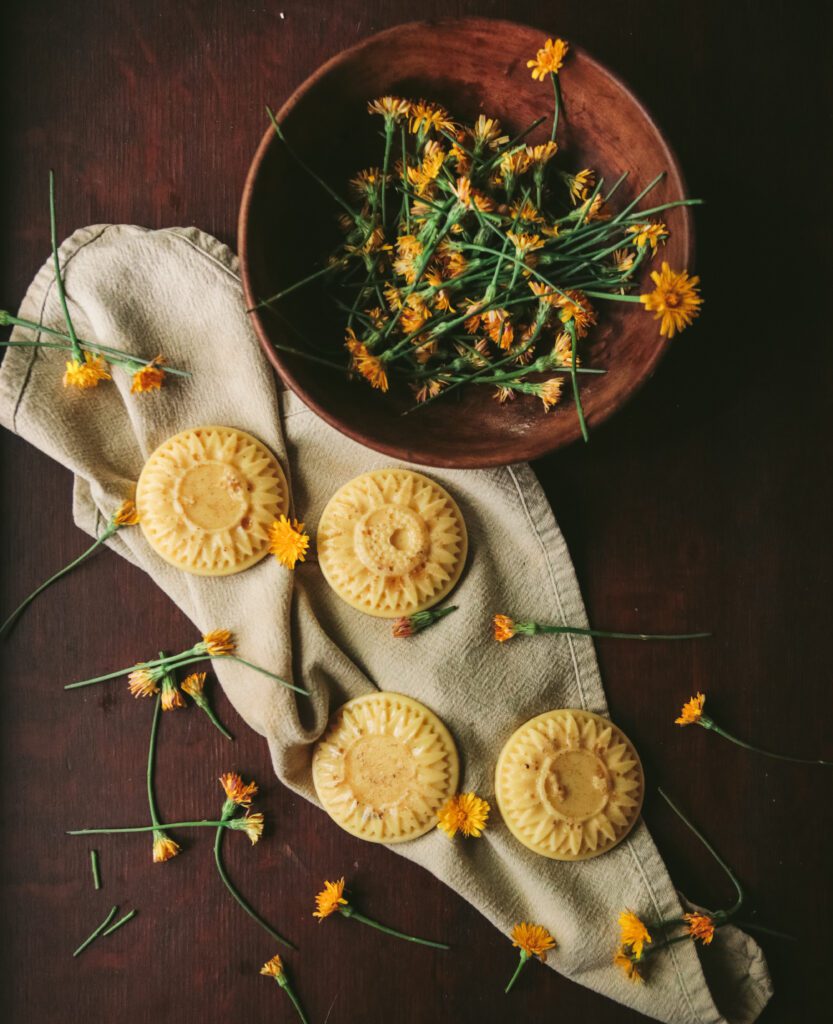 Mango Butter
A naturally non-comedogenic substance, mango butter is made from the oils of the mango seed. Mango butter also protects skin from UV rays and is antibacterial and antimicrobial. All these qualities make mango butter very soothing and nourishing for the skin.
Shea Butter
This ingredient hardly needs an introduction! Shea Butter, created from the root of the shea tree, is antioxidant and anti-inflammatory for the skin. Because it is so moisturizing, it promotes cell regeneration and soothes skin conditions such as dermatitis, eczema, and psoriasis.
Beeswax
Beeswax is used in this recipe to keep the bars hard at room temperature and for its antimicrobial properties. If you can't get your hands on some, feel free to omit it and continue with the recipe. Without beeswax, your concoction will become a softer lotion, which you will need to pour into a glass jar to cool instead of a mold.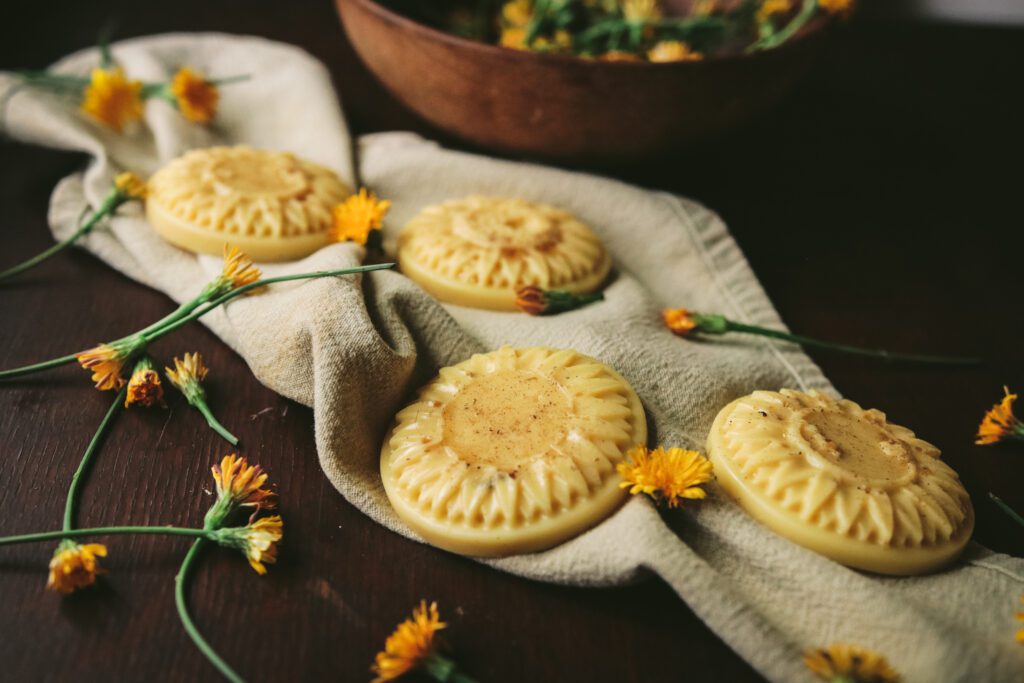 Equipment and Ingredients for this Recipe
A mold for your lotion bars, I ordered this one recently and it turned out so cute
A Double boiler, or small pot to melt the ingredients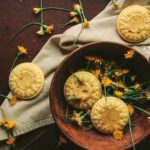 Print
Dandelion and Beeswax Lotion Bars
Materials
¼

cup

raw

unrefined Shea butter

¼

cup

raw unrefined mango butter

1

cup

dandelion flowers

washed and separated from the stem

Be sure to choose dandelions that are harvested from areas that are not sprayed. When sprayed

these herbs will harmful to the skin.

1

oz

of local beeswax
Instructions
Rinse dandelions thoroughly

Place the flowers, mango butter, shea butter, and beeswax in a double boiler (you can put them directly in a pot here, but I prefer the double boiler method)

Melt on low heat, stirring occasionally for 30-45 minutes to infuse. Allow to cool *slightly* but not too long, or the wax will start to set!

Using a fine-mesh sieve (or cheesecloth), strain flowers from oil mixture keeping the oil in a bowl with a pour spout

Pour oil into molds and allow to cool for several hours until firm. They should pop out easily once cooled. I like to place my mold in the freezer because it makes the bars easier to spring from the mold.

Store in a glass jar or tin in a cool dark place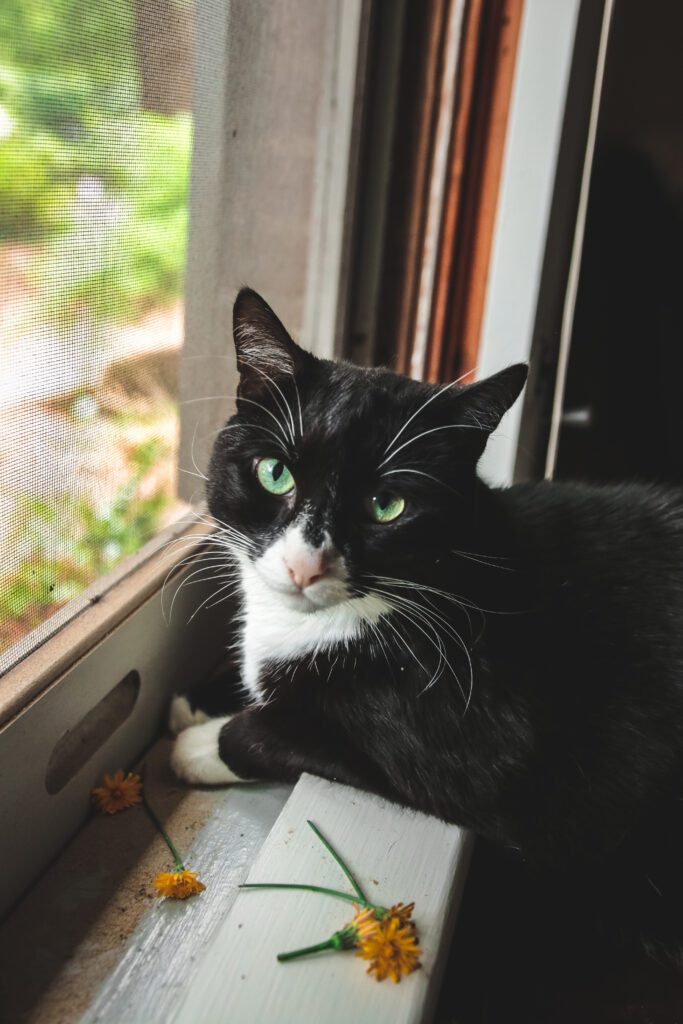 Thank you so much for joining me for another lotion bar recipe! For more simple, seasonal living content, you can follow me on Instagram or subscribe to this blog – Regina C.