---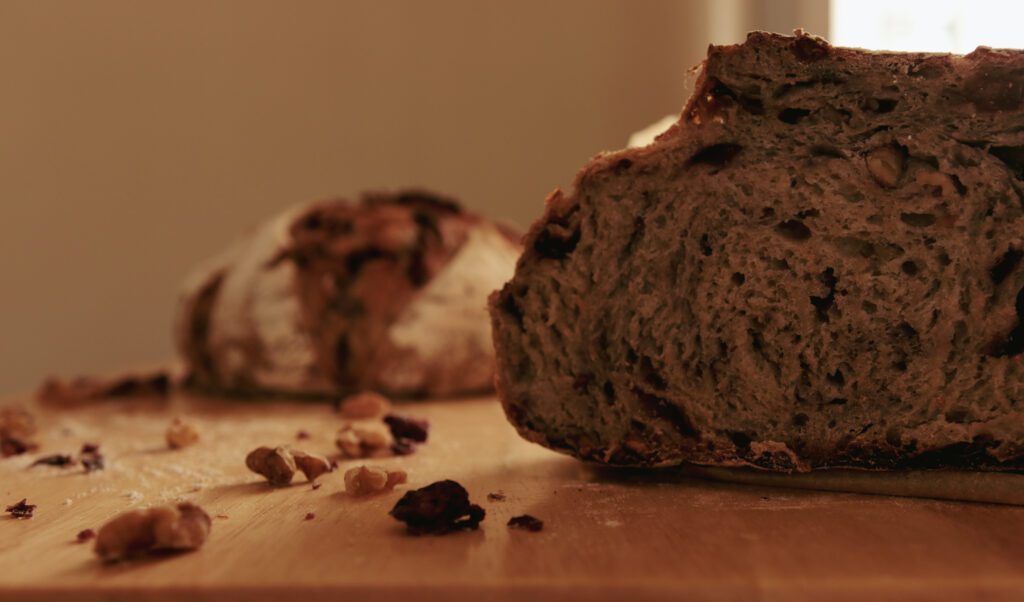 Thanksgiving is rapidly approaching and I am loving the fall flavors. Thanksgiving, in my opinion, is the golden crescendo of autumn. It is when the fall flavors are at their fullest and the crisp air has settled into the shadows of tall trees and red brick houses. These last few weeks of the golden season are a time of so much creativity and inspiration for me. I am a sponge, soaking up all the color, light, and beauty of this month! One of the best ways to incorporate all these seasonal flavors is through this cranberry walnut sourdough loaf.
There is something about sourdough in the autumn that is so special. Warm bread with a savory soup or stew is what my soul wants this time of year. The act of nurturing my starter and dough helps me to settle and nest during this busy season. This cranberry walnut sourdough loaf is close to perfection; it is incredibly soft, chewy, and full of flavor. Last night I enjoyed a slice with a warming soup and this morning I am serving it with butter for breakfast. I also think this loaf would be a delightful addition to Thanksgiving dinner because of how the flavor suits the season.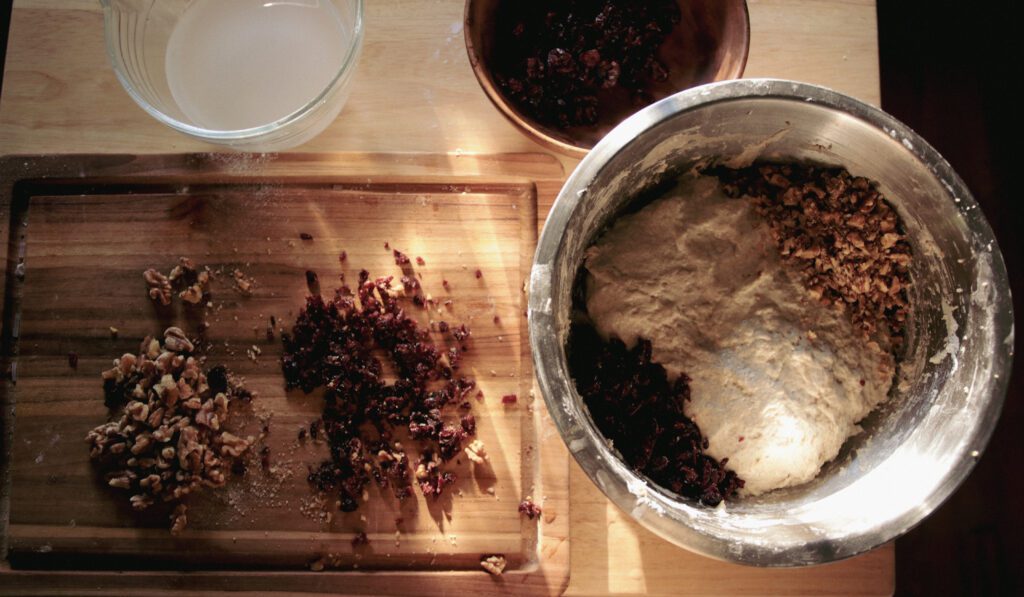 A few Notes on Starter:
Your starter needs to be active and bubbly for this recipe. I would recommend feeding the morning or night before depending on how long it takes for your starter to peak. when my starter is really active, I can feed it the morning of and start mixing that afternoon. Check out my Sourdough Starter FAQ for more information on how to achieve an active bubbly starter!
Is Rye Flour Necessary?
Using rye flour is not necessary for this recipe, but I would highly recommend it. Rye flour gives depth and nutty flavor to an otherwise simple loaf. I also think the rye adds a rustic color and essence to my loaves.
---
Supplies you Will Need
Active rye sourdough starter
warm water
kosher salt
Dried cranberries and raw walnuts
Other Supplies:
Bread lame
~to score your dough. This is the one I use and is also pictured below.
~for bulk fermenting your dough
A Baker with Lid
~I love using my Le Cruset or my clay Baker from Breadtopia but you can use any oven-safe, heavy bottom pot with a lid.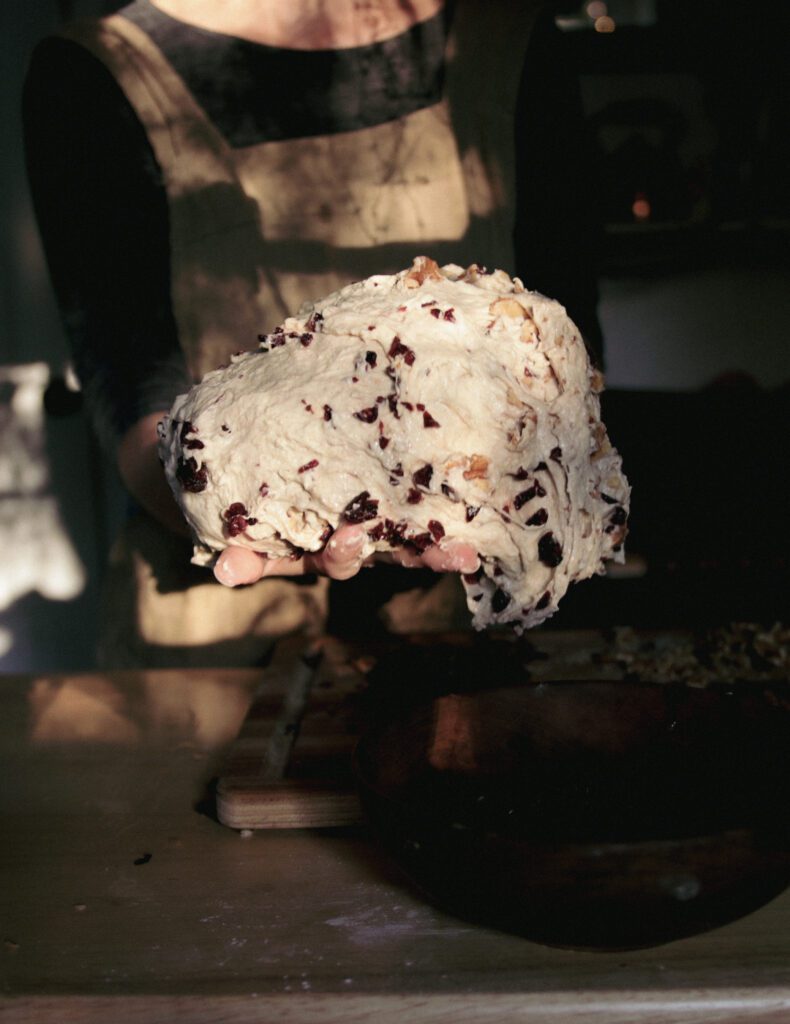 Sample Baker's Schedule:
This is the schedule that I typically use when baking sourdough. I love this schedule because it allows me time in the evening during the bulk ferment to leave the house or do other activities. Some days I begin earlier or later, but this is a great sample schedule to follow if you are having trouble planning bake days.
The day before:
2:30 pm: measure, mix, and autolyse your dough
3pm: add salt, cranberries, and walnuts to your loaf
3:30-4:30: stretch and fold every 15 minutes
4:30-6:30 stretch and fold every 30 minutes
6:30-10 bulk ferment dough
10: turn out dough to preshape and rest
10:20 shape dough, place in banneton, and store in refrigerator overnight
Bake Day:
7:30am: preheat oven and baker
8am: score and bake loaves
8:25am: remove lids
8:35am: remove bread from oven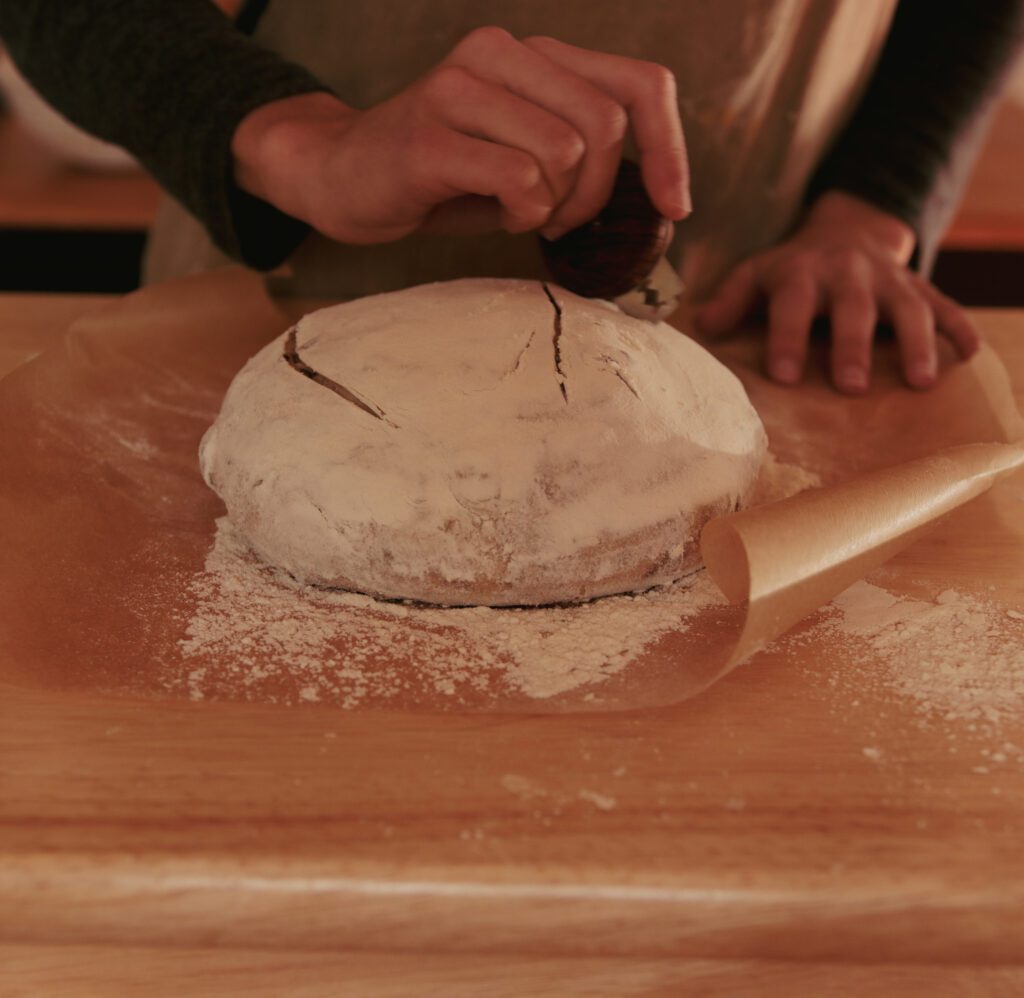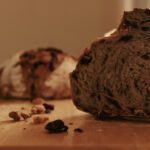 Cranberry Walnut Sourdough Bread
Print Recipe
Ingredients
Ingredients

300

g

Active rye sourdough starter

600

g

warm water

700

g

organic

unbleached bread flour

100

g

whole wheat flour

100

g

rye flour

20

g

salt

1/2

cup

chopped walnuts

1/2

cup

cranberries
Instructions
The Day before Baking:
Measure and sift flour into a large bowl

Measure and add starter and water into a separate bowl and mix until starter mostly dissolves into water

Pour the mixture into the large flour bowl and mix for about 20 seconds

When the flour is mostly incorporated with the water, cover and rest for 30 minutes (this is the autolyse)

Add salt to the dough and use your hands to incorporate all the ingredients by kneading. To keep dough from sticking, keep your hands wet when kneading, stretching, and folding.

Gently fold cranberries and walnuts into the dough

Cover your dough with a moist towel (or clean shower cap)

For the next hour, stretch and fold your dough every 15 minutes

For the following two hours, stretch and fold your dough every 30 minutes

After the stretch and folds are done, cover and allow to bulk ferment for 4 hours or until doubled in size

Turn out the dough onto a clean work surface and pre-shape into 1 medium ball (or two small ones) Allow to rest for 15-20 minutes

Shape into two loaves and transfer into a floured banneton or colander lined with a floured tea towel

Cover and place in the fridge for 8-10 hours
Bake Day
Place your baker and lid in a cold oven

Preheat your oven to 500 degrees F for about 30 minutes

When you are ready to bake, gently turn your dough out, seam side down, onto baking paper

Score your dough as you like and using the baking paper, lift the dough into the preheated baker and cover with the lid. Place inside the oven

Bake covered loaf in the oven for 25 minutes

Remove lids after 25 minutes, turn your oven down to 475 and allow to bake for another 10 minutes or until the loaves reach the color you like. I like to strive for a dark caramel but try not to burn the ears!

Pull out your loaf once it reaches your desired color and allow to cool for at least 1-2 hours before slicing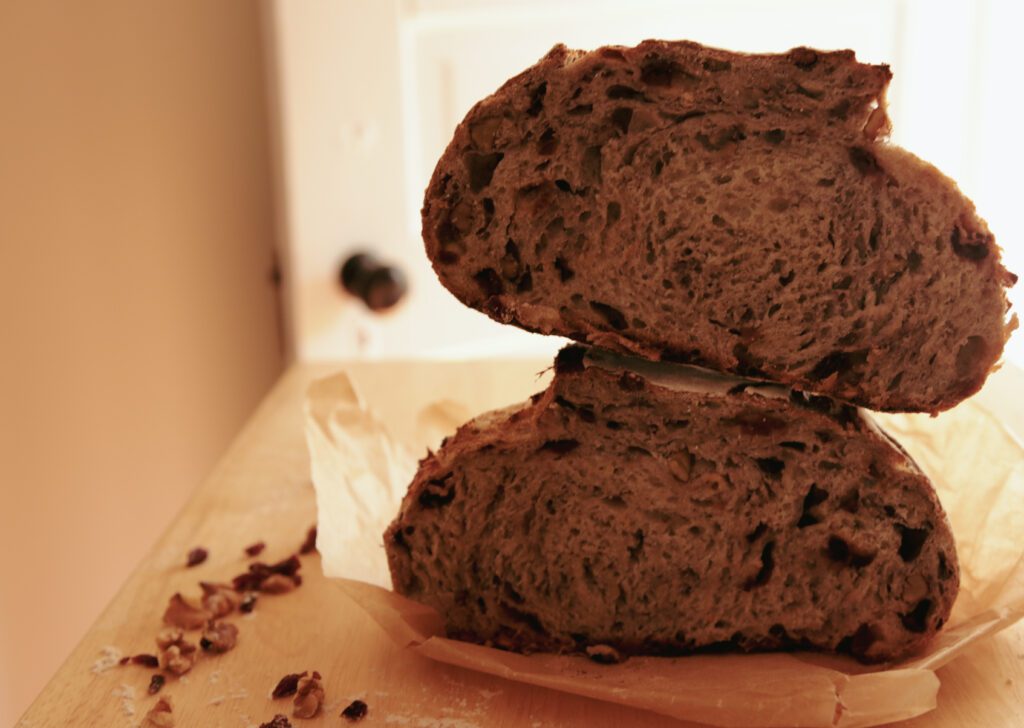 I hope you enjoyed this delicious loaf as much as I did. If you did try the recipe, I would love to hear more from you in the comments!
I have always been a lover of chai. For years I drank the vanilla chai from Bigelow almost every morning and it was so convenient and delicious! This past year, however, I discovered how many additives are in packaged teas in addition to the amount of bleach and chemicals that are in the tea bags.…
Make this fire cider recipe to ward off illness during the colder months. You can take as a tonic or apply topically!
Learn all the ends and outs of making green tea kombucha at home. This recipe will give you perfect, bubbly kombucha every time!