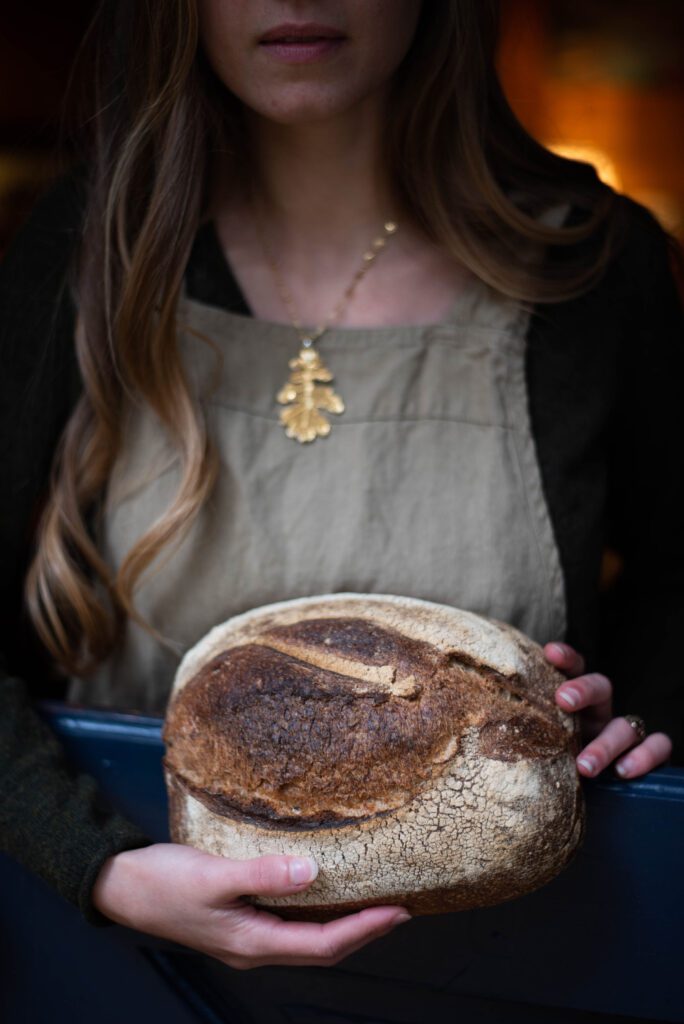 Baking sourdough is probably easier than you think. Yes, it takes practice, patience, and time, but so does anything worth doing! Some people have seen my bread and remarked that perhaps I have a lot of time on my hands or "it must be nice to have time to do that." It is not that I have so much time on my hands, it is more that I choose to make time for the things I value. Some people make time to watch loads of TV, go out with friends, or work after hours. I choose to bake beautiful artisan sourdough bread. It does take time to cultivate a skill which is exactly what baking sourdough is. Not just anyone can grab a recipe and begin, this skill takes a little research, practice, and a few supplies (like a starter). Before we get into the nitty-gritty of sourdough technique, I will leave you with this: If you want to know what you value, look at how you spend your spare moments. Proper and beautiful things do take time and you have the time to do things in this way. As Charlotte Mason once said:
"Anything Worth Doing is Worth Doing Well"
This recipe is so simple that you will probably have it memorized after only a few attempts. I have tried quite a few recipes and this is the one I go back to every time. If this recipe is too simple or plain for you, check out my Roasted Garlic and Rosemary Sourdough Bread or my Cranberry Walnut Sourdough Loaf.
Before the recipe, let's review a few of the sourdough principles:
Starter
There is so much to say about sourdough starter, that I wrote an entire blog about it a few months ago. Feel free to read that if you want an in depth read on all things starter. That being said, you will want your starter to be active and bubbly before beginning this bake. There is not one specific way to achieve this so it is important to know your starter and how long it takes to rise and fall.
Gluten Development
Because we are using natural yeast (starter), we need to develop our own gluten over time. That is why sourdough takes much longer than a commercially yeasted bread. You can develop gluten in a number of ways:
Using an active starter
Stretching and folding dough
Not over-proving
Using bread flour and rye
Properly shaping dough before the bulk ferment
As you are working with your dough, pay attention to the elasticity. When gluten is developed properly, the dough will easily stretch (almost like taffy), but when gluten is not developed, the dough will be a wet blob without elasticity.
Salt
When I was first baking sourdough I foolishly omitted salt for a long time. I thought salt was unnecessary and would make the bread unhealthy. Later, I learned that salt is vital for flavor and for keeping your bread from molding too soon.
Flour
At a minimum you should be using unbleached bread flour, it is up to you if you want to use organic or not. Flour is a lot like eggs: until you taste really delicious free-range eggs, you don't know what you are missing! Similarly, if you have been using bleached all purpose flour, your bread will taste fine but if you want it to taste great, you can level up your flour game. I am also a big fan of rye flour, so get your hands on some to feed your starter and your bread.
To make this rustic sourdough recipe,you will need:
300g warm water
150g Rye sourdough starter
10g kosher salt (or whatever salt you have!)
Other supplies:
Bread lame
~to score your dough. This is the one I use and love!
~for bulk fermenting your dough
A Baker with Lid
~I love using my Le Cruset or my clay Baker from Breadtopia be sure to use any oven-safe, heavy bottom pot with a lid.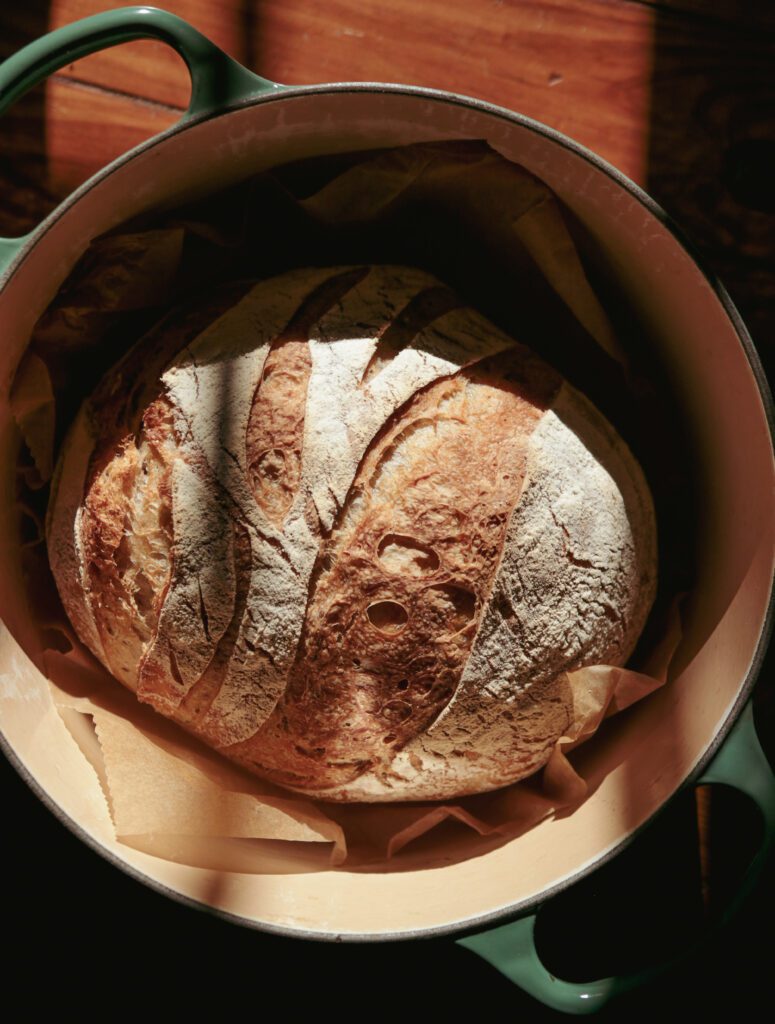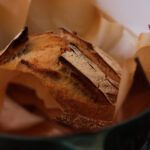 Print Recipe
Classic Rustic Sourdough Bread
Sourdough bread recipe for a simple overnight loaf.
Ingredients
150

g

Active rye sourdough starter

300

g

warm water

450

g

organic, unbleached bread flour

10

g

salt
Instructions
The Day before Baking:
Measure and sift flour into a large bowl

Measure and add starter and water into a separate bowl and mix until starter mostly dissolves into water

Pour the mixture into the large flour bowl and mix for about 20 seconds

When the flour is mostly incorporated with the water, cover and rest for 30 minutes (this is the autolyse)

Add salt to the dough and use your hands to incorporate all the ingredients by kneading. To keep dough from sticking, keep your hands wet when kneading, stretching, and folding.

Cover your dough with a moist towel (or clean shower cap)

For the next hour, stretch and fold your dough every 15 minutes

For the floowing two hours, stretch and fold your dough every 30 minutes

After the stretch and folds are done, cover and allow to bulk ferment for 4 hours or until doubled in size

Turn out the dough onto a clean work surface and pre-shape into 1 medium ball (or two small ones) Allow to rest for 15-20 minutes

Shape into loaf and transfer into a floured banneton or colander lined with a floured tea towel

Cover and place in the fridge for 8-10 hours
Bake Day
Place your baker and lid in a cold oven

Preheat your oven to 500 degrees F for about 30 minutes

When you are ready to bake, gently turn your dough out, seam side down, onto baking paper

Score your dough as you like and using the baking paper, lift the dough into the preheated baker and cover with the lid. Place inside the oven

Bake covered loaf in the oven for 25 minutes

Remove lids after 25 minutes, turn your oven down to 475 and allow to bake for another 10 minutes or until the loaves reach the color you like. I like to strive for a dark caramel but try not to burn the ears!

Pull out your loaf once it reachs your desired color and allow to cool for at least 1-2 hours before slicing
This post contains affiliate links, which means I make a small commission at no extra cost to you. You can view my Privacy Policy Here.