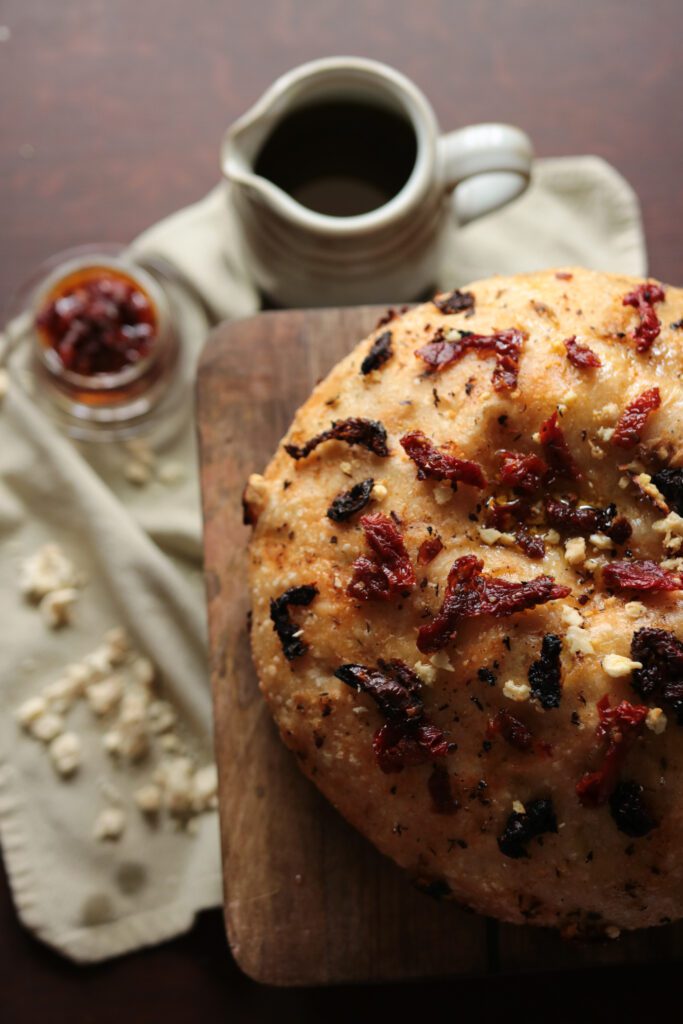 Sometimes I want something more simple than the rustic sourdough loaf. On these days I just want to mix the dough, stretch and fold a few times, and then let it ferment without scoring or shaping. If you have ever wanted an even less involved sourdough recipe, or are just craving a soft bread flavored with olive oil and herbs, then this sourdough focaccia bread recipe is the one for you!
This Focaccia is completely customizable. You can add whatever seasonal toppings you have on hand to go with almost any meal. For this recipe, I chose to add sundried tomatoes, feta, and kosher salt but you can really get creative with it and add whatever you like.
My favorite focaccia topping ideas:
Parmesan
Fresh herbs
Edible flowers
Green onions
Roasted garlic
Goat cheese
Tomatoes, fresh or sundried
Olives
Roasted red peppers
Nuts and seeds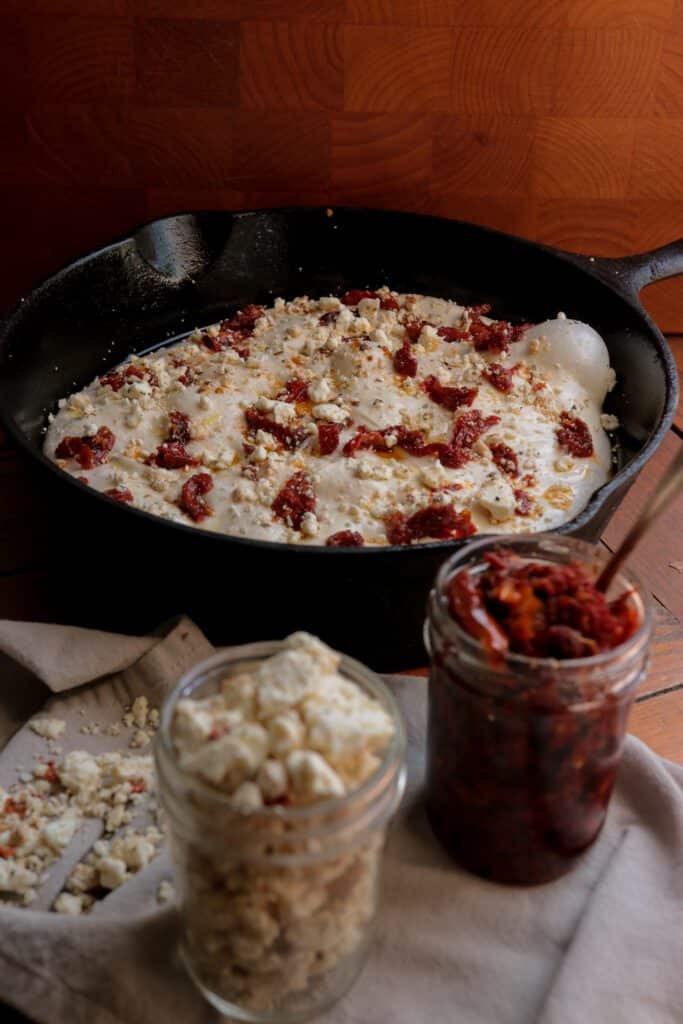 How to keep toppings from burning
After the final dimpling of the dough, you can press toppings into the dough to prevent burning. You can also add more delicate toppings halfway through the baking process. For example, garlic will burn much faster than green onions so it would make sense to add garlic after the bread has been in the oven for a while. You can assess on a case-by-case basis which of your toppings are more likely to burn.
A few tips for making the perfect Sourdough Focaccia
From my recipe testing I made a few mistakes that could have been prevented had I known the following tips:
Do not be afraid to dimple the dough
When I first tried focaccia I was terrified of handling the dough. After making lots of sourdough loaves where I need to be very gentle in order to preserve the bubbles and gas built up, I brought that same approach to focaccia. I later realized that the focaccia is very forgiving. Dimpling the dough well will keep it from puffing up too much.
Spread it out over the surface of the pan
Another way to keep Focaccia from puffing up too much is by spreading it out over the surface of your pan. One mistake I made is baking mine in a cast iron that was too small to allow the dough to be spread out. This caused the dough to be too puffy. When you make this recipe I would highly recommend you use a larger cast iron or a sheet pan with sides.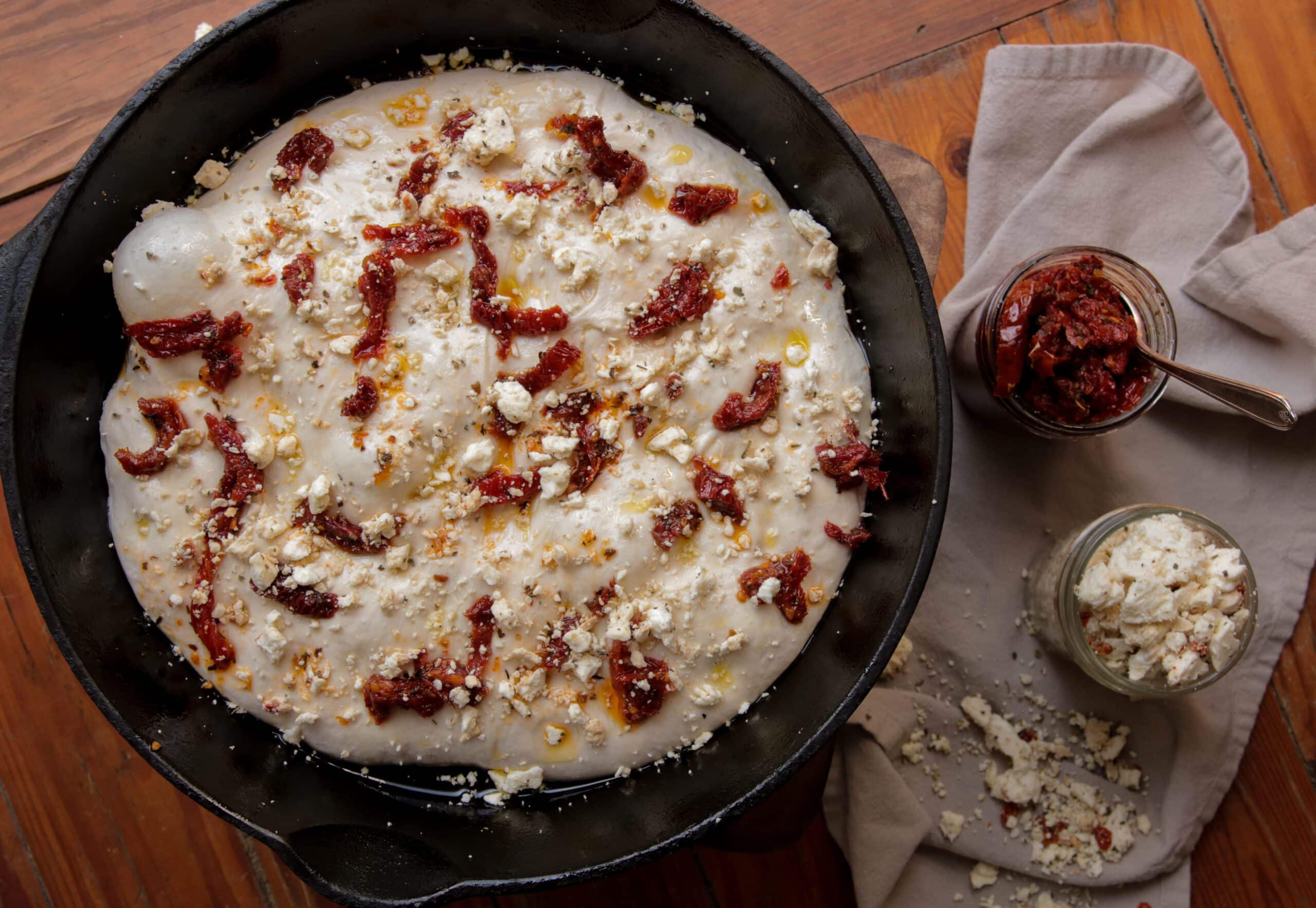 ---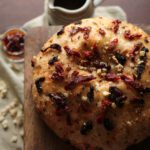 Sourdough Focaccia Bread Recipe
Print Recipe
Ingredients
425

g

flour

15

g

sea salt

315

g

warm water

100

g

active starter

Olive oil to taste
Instructions
Mix the wet ingredients together

Add the wet ingredients to the flour and allow to autolyse for 20-30 minutes

Add salt to the dough and knead for 3-5 minutes until dough pulls away from the edges of the bowl and is fully incorporated

Allow dough to rest for 10 minutes before performing 4 stretch and folds every 45 minutes. This should take around 3-4 hours total

After the last stretch and fold, place the dough in a well oiled bowl and cover. Place dough in the fridge for 8-12 hours or overnight

Take the dough out of the fridge and place it in a well oiled baking pan, large cast-iron skillet, or dutch oven

Allow the dough to come to room temperature for about 2 hours (it's okay if you need to go a little over or under this time as the dough is very forgiving)

After the dough is at room temperature, spread it out over the surface of the pan. You can really pull at it here but try not to flatten it with your hands.

Meanwhile, preheat your oven to 425 F.

Drizzle with more olive oil and dimple the dough with your fingers or knuckles being sure to make large and small dents

Add your toppings of choice, pressing them into the dough. I added sun-dried tomatoes, sea salt, and feta.

Bake uncovered for 30 minutes

Tint the bread with tin foil and bake for another 10 minutes

Allow bread to cool (if you can wait!) and slice and enjoy

Sourdough Focaccia will store at room temperature wrapped in a tea towel for a few days. After that, place in the fridge for a week or so.