Sourdough Bagels were one of the first sourdough recipes I tried after mastering the sourdough loaf. Don't get me wrong, I love a simple, rustic loaf of sourdough, but bread can come in so many other forms! This is why I want to encourage you to experiment with all things sourdough this spring! I will be posting many of my favorite recipes this spring: everything from sourdough focaccia to cinnamon rolls. You can also visit my sourdough recipes page for lots of recipes and inspiration.
These sourdough bagels are so chewy, tangy, and soft! They are the perfect base for a creative sandwich, flavored schmear, or salted butter. I love to make a huge batch for my family on holiday weekends or for myself before a busy week. I love this recipe because half of it is done the night before and you can simply wake up, get started, and serve within an hour!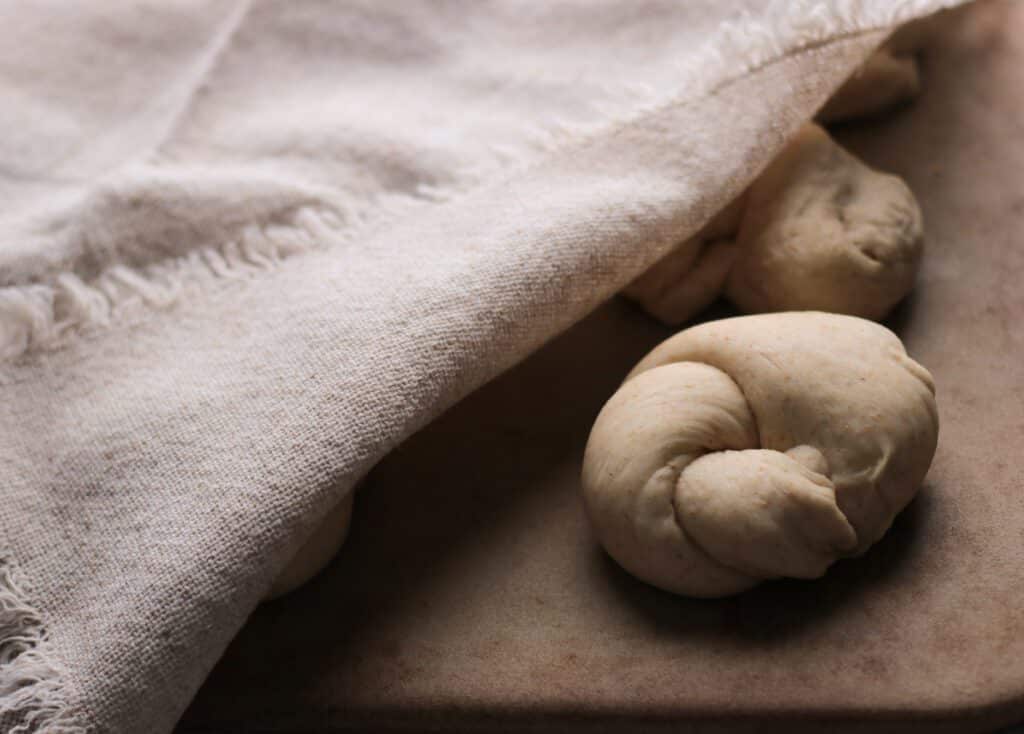 When it comes to bagels, people can be very passionate about tradition. I know certain flavors and shapes have been rejected over the years, especially by New Yorkers. I wanted to let you know that I am not a bagel purist but rather enjoy all flavors and shapes. This is why I twisted this batch into beautiful swirls. Yes, the twists look great in pictures, but they are also a great way to infuse a little fun into shaping your bagels. If this resonates with you, I have included photos below of how I twisted my dough. If this does not resonate with you, feel free to shape your dough as usual! One of the beautiful things about bagels is the variety of flavors and toppings that can be utilized. Feel free to get creative and top your bagels with whatever you are craving!
A few words on Sourdough Starter
There is so much to say about sourdough starter, that I wrote an entire blog about it last year. Feel free to read that if you want an in-depth read on all things starter. That being said, you will want your starter to be active and bubbly before beginning this bake. There is no one right way to achieve this so it is important to know your starter and how long it takes to rise and fall.
To make these sourdough bagels, you will need:
warm water
Sourdough starter
kosher salt (or whatever salt you have!)
---
Print Recipe
Sourdough Bagel Twists
Ingredients
Bagel Dough
400

g

bread flour

100

g

whole wheat Flour

225

g

warm Water

100

g

Starter

10

g

Salt

Bagel toppings of choice-

everything bagel seasoning, cinnamon sugar, egg wash (for plain), or anything else you like!
Water Bath
a large pot of water

1

TBS

Sugar

-I used turbinado because of it's depth of flavor
Instructions
THE NIGHT BEFORE
Weigh and sift flour into a large bowl

Add warm water to a medium-sized bowl and stir in starter until mostly dissolved

Combine everything and allow dough to hydrate for a few minutes before kneading

Add salt and knead your dough by hand for 5-7 minutes or with a stand mixer for 3-5 minutes. The dough will be very thick and a little stiff. Work the dough in your hands until a smooth dough is formed

Allow the dough to rest overnight for 8-12 hours
THE NEXT MORNING
Turn dough out onto a clean work surfaceUsing a bench scraper, divide the dough into 8 equal pieces

Using a bench scraper, divide the dough into 8 equal pieces

To create bagel twists, use your hands to roll a dough piece into a long snake, being careful not to break the dough or pop any bubbles

Fold your snake in half and twist the two pieces together

Secure the two ends of the twist by pinching them together

Repeat for all the bagels Cover the bagels with a damp towel to rest for 30 minutes or until puffy

While the bagels are resting, preheat your oven to 425 F and bring your large water pot to a boil and add the sugar

Once the bagels are puffed up a bit, gently add them (only a few at a time) to the large pot for 2 minutes. Once each bagel is pulled from the water bath, add your toppings of choice to the slightly wet bagel

Repeat will all 8 bagels

Once your water bath is complete, place your bagels on a baking stone and bake for 25 minutes or until golden brown

Serve and enjoy! I usually can't even wait 10 minutes for them to cool down before digging in, so I won't ask you to do the same…