Sometimes I want to start and finish my baking all in one day. Maybe to save time, maybe because I'm just impatient for some bread, there are many reasons to bake a speedy loaf. I started baking same day sourdough last year when I wanted to mix dough in the morning and have fresh bread in time for dinner. I definitely had my doubts about whether or not the bread would turn out, but the experiment worked! Now, same day sourdough isn't my usual practice (because I love the flavor of a longer fermented dough) but it's a great option in a pinch. 
What are the benefits of same day sourdough?
Same-day loaves is simply a faster way to get bread on the table!
Sourdough with less fermentation time will be less "sour" which can be a pro if you don't like that strong sour flavor.
What are the challenges of same day sourdough?
Same-day sourdough will not be as easy to digest as longer-fermented breads
A speedy sourdough will also not be as flavorful, but sometimes you can use a strong starter to encourage more "sour" flavor
Sometimes a same day loaf will not be as elastic or spring as much in the oven as a longer fermented loaf, but we can address ways to remedy that below
Supplies you will need for baking sourdough:
Bread lame
~to score your dough. This is the one I use and love!
~for bulk fermenting your dough
A Baker with Lid
~I love using my Le Cruset or my clay Baker from Breadtopia. Be sure to use an oven-safe, heavy bottom pot with a lid.
Beeswax Wrap
I love to use beeswax wrap to cover my bread while fermenting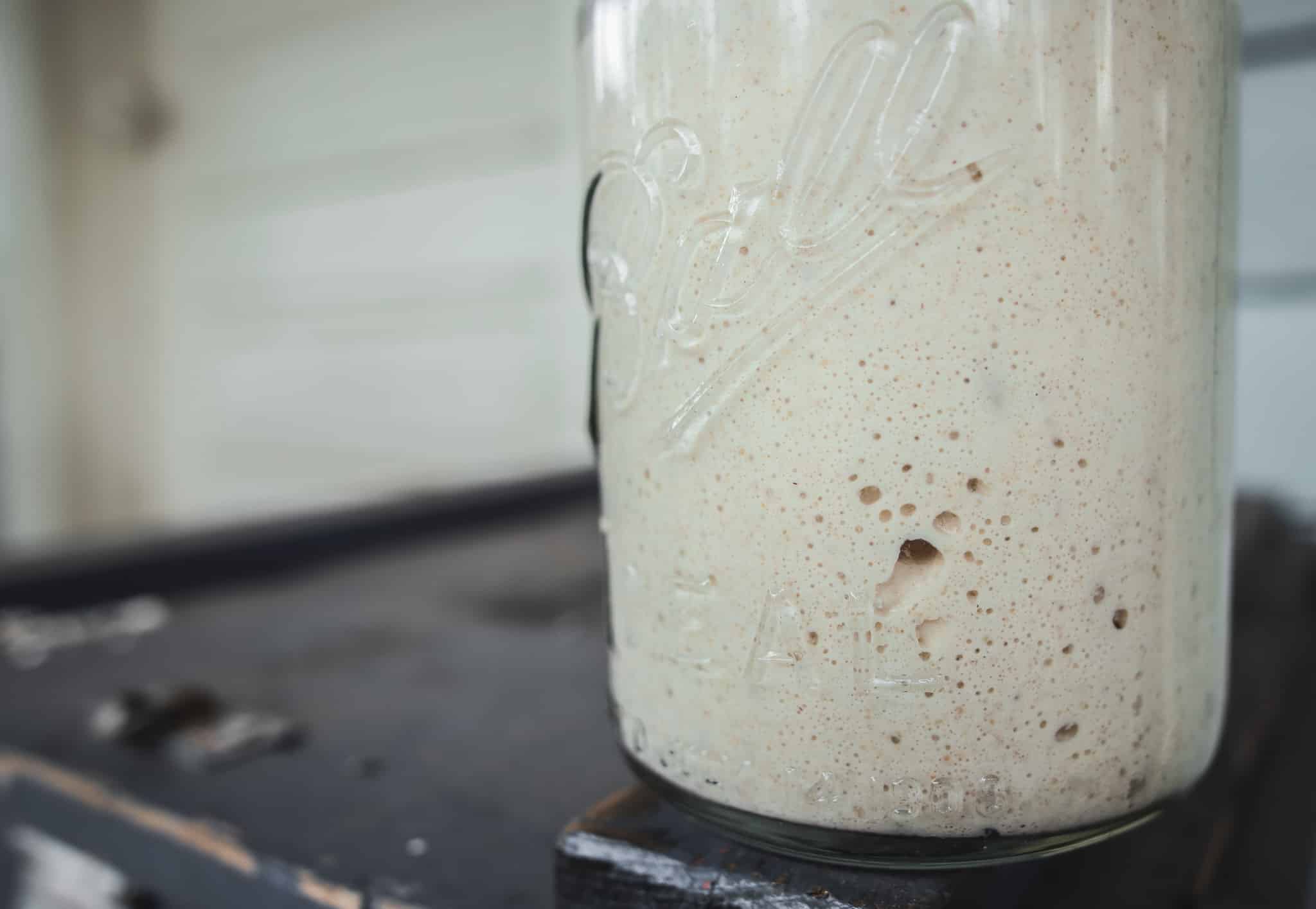 A note on sourdough starter: be sure you have an active, bubbly starter before you bake! You can read more about how to achieve this below
TIPS FOR BAKING SAME DAY SOURDOUGH
How to remedy the flavor issue
Baking with a stronger starter is the best way to add in more flavor to a faster loaf. Another way to add flavor is by including added ingredients such as roasted garlic, herbs, sundried tomatoes, and much more
How to add more bounce to your speedy sourdough
Be sure to always bake with a very active, bubbly starter when you do a quick loaf. This means you will have a better chance of developing gluten in the bread!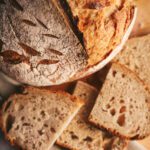 Print Recipe
Same Day Sourdough
Ingredients
150

g

Active sourdough starter

300

g

warm water

450

g

organic

unbleached bread flour, you can also mix rye or whole wheat, so long as it comes to 450 g

10

g

salt
Instructions
8 am
Measure and sift flour into a large bowl

Measure and add starter and water into a separate bowl and mix until starter mostly dissolves into water

Pour the mixture into the large flour bowl and mix until the water is mostly absorbed

When the flour is mostly incorporated with the water, cover and rest for 30 minutes (this is the autolyse)
8:30 pm
Add salt to the dough and use your hands to incorporate all the ingredients by kneading. To keep dough from sticking, keep your hands wet when handling the dough.

Cover your dough with a moist towel (or clean shower cap)
9 am
Perform your first stretch and fold
9:15 am
Perform your second stretch and fold
9:45 am
Perform your third stretch and fold
10:15 am
Perform your fourth stretch and fold
10:45 am
After the stretch and folds are done, cover and allow to bulk ferment for a few hours or until doubled in size
~ 1:45 pm ~
Turn out the dough onto a clean work surface and pre-shape into 1 medium ball (or two small ones) Allow to rest for 15-20 minutes

Shape into a loaf and transfer into a floured banneton or colander lined with a floured tea towel

Cover and place in the fridge
5:30 pm
Place your baker and lid in a cold oven

Preheat your oven to 500 degrees F for about 30 minutes
6 pm
Gently turn your dough out, seam side down, onto baking paper

Score your dough as you like and using the baking paper, lift the dough into the preheated baker and cover it with the lid. Place inside the oven

Bake the loaf covered in the oven for 25 minutes

Remove lids after 25 minutes, turn your oven down to 475, and allow to bake for another 10 minutes or until the loaves reach the color you like. I like to strive for a dark caramel but try not to burn the ears!

Pull out your loaf once it reaches your desired color and allow to cool before slicing
This post may contain affiliate links, which means I make a small commission at no extra cost to you. You can view my Privacy Policy Here.