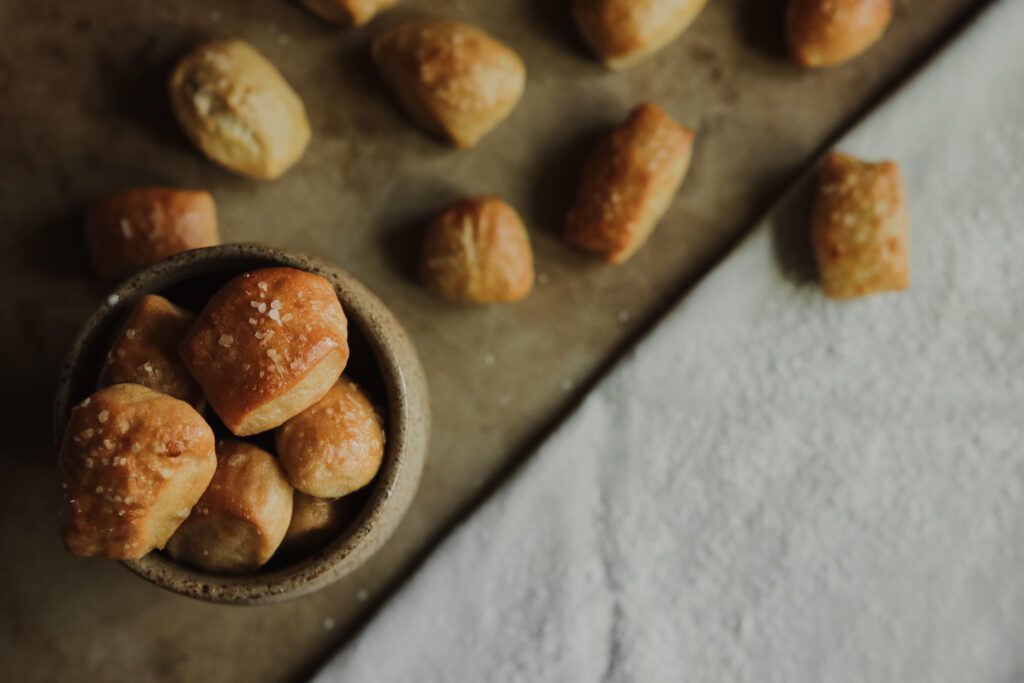 Hi, my name is Regina and I am a pretzel addict.
Seriously. If pretzels are on the menu, I am going to order them. And even though they are delicious, the restaurant pretzels usually leave me feeling pretty gross and bloated afterward. You know that full, lethargic feeling you get after eating a bunch of white processed bread? For a while, I thought I might be sensitive to gluten and needed to cut out bread altogether, but then I discovered sourdough. After that, I decided I could bake my own sourdough soft pretzel bites that would taste and digest much better. Flash forward a few months and we have this simple, healthy recipe!
These sourdough pretzel bites are fermented overnight to create a soft, chewy, and salty result. Because they are made with just a few simple ingredients, they are good for you and can be eaten with (or for) any meal. I love to dip mine in mustard, queso, or beer cheese. They can also be served with your favorite soup or dipped in chocolate for dessert.
A few words on Sourdough Starter
There is so much to say about sourdough starter, that I wrote an entire blog about it last year. Feel free to read that if you want an in-depth read on all things starter. That being said, you will want your starter to be active and bubbly before beginning this bake. There is no one right way to achieve this so it is important to know your starter and how long it takes to rise and fall.
Sourdough Pretzel Bite Toppings
Almost anything tastes amazing on pretzel bites:
Everything (but the) bagel seasoning
Fresh or dried herbs
Dried garlic
Cinnamon sugar
Dried onion
Flakey salt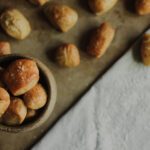 Sourdough Soft Pretzel Bites
Print Recipe
Ingredients
Dough
1 ½

cup

of all purpose or bread flour

½

cup

of water

¼

active, bubbly, sourdough starter

1

TBS

raw honey

¾

tsp

salt
Water Bath
½

TBS

of baking soda

½

TBS

bown sugar or turbinado sugar
Egg Wash
1

egg yolk

1

teaspoon

water
Instructions
Mix all ingredients well and knead until smooth, elastic, and passes the window pane test

Place in a covered bowl and allow to rest overnight or for 8-12 hours at room temperature

Turn dough out onto a clean work surface and divide into 8 equal pieces, give or take

Using your hands, gently roll out each piece of dough to create a long rope shape about as thick as your thumb

Using a bench scraper or a knife, divide the rope into little bite sized pieces. The size or each bite can vary.

Cover dough and allow to rise for about an hour or until very puffy.

When your dough is almost done rising, bring a heavy bottomed pot to boil adding the baking soda and brown sugar.

Preheat the oven to 425 degrees F.

Boil all of the pretzel bites for about 30 seconds and place on a lined baking sheet

Mix the egg wash and brush on each pretzel bite.

Add kosher salt, or your own topping of choice

Bake for 15 minutes or until golden

Enjoy immediately!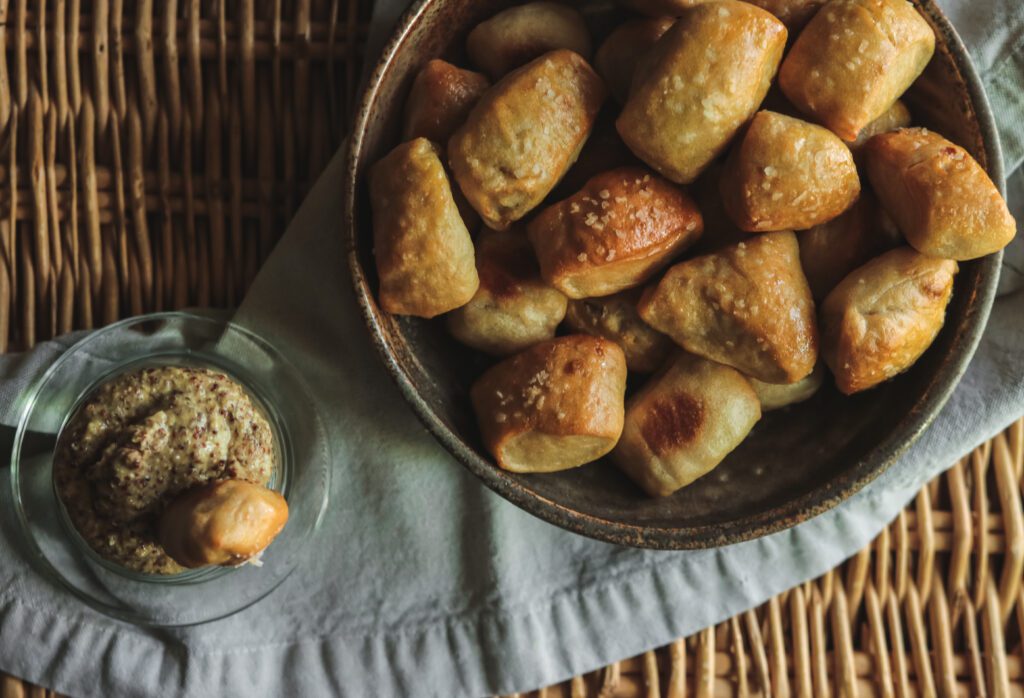 Thanks for visiting my little cottage and trying out one of my favorite recipes! For more sourdough recipes, check out this archive.